The Collector



October 21, 2022
---
Eureka's Bay-to-Zoo Trail and C Street Bike Boulevard Fully Funded!
Staff at the California Transportation Commission have recommended funding these two long-awaited active transportation projects. (Unfortunately, a proposed trail project in Fortuna did not make it onto the funding list.) Both Eureka projects will provide much-needed north-south bike and pedestrian connectivity between Downtown/Old Town and other residential and commercial areas. The Commission itself will have to vote on the recommendations at a future meeting, but staff recommendations for funding are almost always upheld.
In other Eureka news, the City Council this week approved an amended housing plan that will speed up development of walkable, infill housing on downtown parking lots and in other parts of the city, and Cal Poly Humboldt is offering additional funding for the EaRTH Center transit and housing hub.
Big Steps Forward for the Great Redwood Trail
We're happy to announce that the federal Surface Transportation Board, which oversees railroads, this week rejected an attempt by the Skunk Train's parent company to take over part of the defunct rail line near Willits. If successful, this takeover would have put a big hole in the middle of the future Great Redwood Trail system. Fortunately, it was the last obstacle in the railbanking process. With that out of the way – and the outrageous coal train scheme defeated months ago – State Senator Mike McGuire will be holding a public trail planning kick-off town hall next Monday. Click the link in the headline above to register.
Arcata Council Candidates Talk About Transportation, Other Topics
You can watch the full candidate forum here. We also encourage you to tell the city directly what you think about road safety issues by taking the survey currently available here (en español aquí), and by making reports on Street Story. Whatever you do, don't forget to vote!
County Proposes Living Shoreline for Eureka-Arcata Corridor
Humboldt County says it will protect the key transportation corridor – which by late next year will include a complete Humboldt Bay Trail! – from accelerating sea level rise by restoring some of the bordering salt marsh. This is a great environmentally friendly approach, although we've been warned it's likely to be extremely expensive.
---
The City of Arcata would like you to make more reports on Street Story.
The city is developing a Local Road Safety Plan, and they are using Street Story reports to help identify safety concerns. So this week, we're specifically asking you to make reports of hazards, near-misses and collisions located in Arcata. Of course, you can also make reports anywhere else too! La versión de Street Story en español está disponible aquí.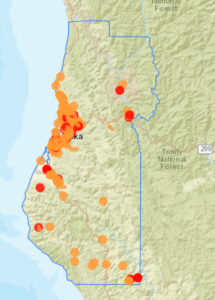 ---
News from Beyond the North Coast
Canadian Cities Discover Parking Isn't the Best Use of Precious Urban Space
Hey, we could have told them that.
Parking Guru Donald Shoup Explains How Less Parking Means More Affordable Housing
Which is part of why a new California law prohibiting local governments from imposing costly parking mandates near high-quality transit is such a big deal.
Banks Are Perpetuating the Oversupply of Parking
Providing parking with new housing makes construction more expensive, increases rents and encourages car dependence. But even when local governments encourage a development to include less parking, the banks funding the project often require more. Is anyone really surprised that big banks are behind yet another societal problem?
---
The Collector is CRTP's weekly transportation news roundup, published every Friday. We focus on North Coast news, but we also include relevant state, national and international transportation news – plus other items that we just find kind of interesting! To submit items for consideration, email colin@transportationpriorities.org.