The Collector



October 14, 2022
---
VOTE!
You probably received your ballot in the mail this week. Don't ignore it! Local, state and federal elections have a huge impact on our transportation systems and our daily lives. Do your research and vote for candidates and ballot measures that support your values and priorities.
New Proposed Gateway Plan Revisions
The City of Arcata has proposed some revisions to the Gateway Area Plan, for the first time since the draft plan was published last December. The most high-profile issues, like building height, have not yet been addressed, but the changes do include a number of small improvements – many of them suggested by CRTP in our initial comment letter. It remains, as we've said many times, the most bike and pedestrian friendly land use plan ever seen in our region.
The Planning Commission also discussed the Plan again this week, and tentatively settled on a building height cap of 7 stories instead of 8. But rather than making any final recommendations, they instead spent several hours identifying topics they wanted to talk about more. Nearly a year into their review with little to show for it, the Planning Commission may be wishing they had heeded our earlier advice to conduct a time-limited, targeted review instead of getting bogged down in endless discussions with the same people about the same topics.
Parking, Parking and More Parking at the Eureka Planning Commission
As we see often at local planning meetings, when the Eureka Planning Commission met this week, they had parking on the brain. First, they approved construction of yet another downtown parking lot, despite the city's own parking study showing that the area already has more parking than it needs. Then, they discussed whether to require the historic Victorian "Pinc Lady" mansion to pave over its garden for a parking lot to serve patrons of its new café and lodging rooms. Thankfully, that idea was voted down.
But they weren't done talking about parking! It was also a hot topic in their discussions about the city's housing plans, and about the update of its coastal zoning code. Unfortunately, we at CRTP have to talk about parking a lot too, as we try to undo the damage done to our communities by decades of policies requiring way too much of it everywhere – and the resulting cultural expectation of being able to store your personal vehicle anywhere you want, in public, for free.
Eureka City Council to Talk Downtown Housing and Transit
Next Tuesday's Eureka City Council agenda includes the scheduled adoption of an amended Housing Element, the legally binding document that details the city's plans for developing new housing. Although we continue to be deeply disappointed with the decision to scrap plans for housing on several downtown parking lots, the new Element does include the exciting housing-and-transit EaRTH Center as well as other much-needed infill development on city-owned lots – and it commits to soliciting proposals from developers for all these sites within 6 months. For those reasons, CRTP is supporting the amended Housing Element.
Speaking of the EaRTH Center, the Council will also be considering an agreement with Cal Poly Humboldt to help fund student housing as part of that project, bringing it one step closer to reality.
---
Your reports help us advocate for safer streets.
Make a report on Street Story every time you see or experience a new hazard, near-miss or collision. La versión en español está disponible aquí.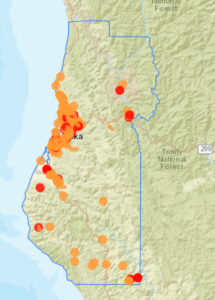 ---
News from Beyond the North Coast
Sidewalks Are Important!
But in many communities – including here on the North Coast – building and maintaining sidewalks is the responsibility of adjacent property owners, even while government agencies pay to maintain the streets. This typically results in a patchwork of deteriorating sidewalks which are impossible to navigate for many people. Advocates in Denver are looking to change that with a ballot initiative that would provide dedicated public funding for sidewalks.
Walking is So Good For You
That's not news. But a new study finds that you don't have to walk many miles a day to improve your health – every little bit helps. Considering that the average American takes 4 trips a day, almost all by car, converting even just one short trip a day to active transportation would have a huge impact on public health – not to mention the climate.
---
The Collector is CRTP's weekly transportation news roundup, published every Friday. We focus on North Coast news, but we also include relevant state, national and international transportation news – plus other items that we just find kind of interesting! To submit items for consideration, email colin@transportationpriorities.org.