The Collector



October 7, 2022
---
Will Arcata Planning Commission Make Some Decisions on the Gateway Plan?
The Commissioners were supposed to make key recommendations about issues like building heights at their last meeting, but didn't get to it because of long discussion about another agenda item. Next week, the Gateway Plan is the only item on their agenda. Taller buildings are needed to achieve levels of density that support real walkability, bikeability, and better public transit, so the recommendation on building heights will be an important one for Arcata's transportation future. But the City Council will have the final say.
Eureka City Council to Reconsider Bike Safety Improvements!
At the end of its Tuesday meeting, the Council decided to reconsider its previous rejection of one-lane streets with bikeways on W and Dolbeer Streets. The issue is now expected to come back to the Council on October 18th. On another topic, Councilmember (and soon-to-be County Supervisor) Natalie Arroyo also requested city staff return at some time in the future with a plan for filling gaps in the city's sidewalk network. And the Council also approved a revolving loan fund for streetscape improvements. Meanwhile, potential future Councilmembers recently weighed in on some transportation issues as well.
The Invention of "Jaywalking"
Learn how, starting in the early 1900s, people were deprived of their long-held right to walk in public streets and roads in this article by CRTP Executive Director Colin Fiske. But things may be turning around! Last week Governor Newsom signed a bill that prohibits police from stopping people who cross the street safely outside a crosswalk – effectively decriminalizing a lot of "jaywalking."
Take the Survey About Street Safety in Arcata
The city is developing a local road safety plan and wants your input. They also want you to make more reports on Street Story!
CRTP & Allies Issue Statement on PG&E Power Pole Herbicide Spraying
Many power poles are in or near areas where people walk, bike and roll, and measures must be taken to protect kids and other vulnerable road users from dangerous pesticides.
Humboldt Residents to Be Appointed to Statewide Transportation Equity Committee
At its meeting next week, the California Transportation Commission will appoint members – including local advocate for people with disabilities (and CRTP Board Member) Peggy Martinez, as well as Cal Poly Humboldt Executive Director of Initiatives Connie Stewart – to a committee to advice Caltrans and other agencies on how to improve transportation equity.
Funding for Bay Trail South Set for Final Approval!
Also on the state Transportation Commission's agenda next week is approval of construction funding for the final 4 miles of the Bay Trail connecting Arcata and Eureka. The long-awaited trail is currently scheduled for construction next summer. If you missed the recent Trails Summit, get more local trail updates here.
---
Your reports help us advocate for safer streets.
Make a report on Street Story every time you see or experience a new hazard, near-miss or collision. La versión en español está disponible aquí.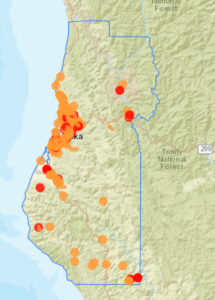 ---
Words Are Nice, But We Need Safer Streets
Check out the op-ed by CRTP Board Member Carisse Geronimo.
Gas Prices Are Super High Again
Apparently, no one knows why or what to do about it. We remind policymakers that you don't need gas to walk, bike, roll, or take an electric bus.
More Bills Signed and Vetoed by Newsom
Before the deadline last week, Governor Newsom approved bills requiring the development of statewide bike parking standards, and one that further supports development of the Great Redwood Trail, among many others. Disturbingly, he vetoed a bill that would have required transportation spending to align with the state's climate goals. And he signed a bill that will impose onerous insurance requirements on scooter-share systems, striking a potentially critical blow to low-carbon "micromobility" systems. Check out the article linked in the headline for a full review of bills signed and vetoed.
---
The Collector is CRTP's weekly transportation news roundup, published every Friday. We focus on North Coast news, but we also include relevant state, national and international transportation news – plus other items that we just find kind of interesting! To submit items for consideration, email colin@transportationpriorities.org.