The Collector



September 30, 2022
---
$500,000 for Eureka Streetscape Improvements?
On Tuesday, the City Council will consider establishing a loan fund to support businesses making improvements like curb extensions, bike parking and public art.
Ride the Bus!
Check out CRTP Vice President Tom Wheeler's handy guide to riding the bus in Humboldt County.
Eureka Council Stops Safety Improvements on W & Dolbeer Streets
Despite overwhelming evidence that safety would be improved and a recommendation from the city's Transportation Safety Commission to move forward with the project, 3 of the 5 Councilmembers voted against it.
Migrations: Walking Together in Arcata
Join all or part of the walk on Saturday from the Arcata Playhouse to Carlson Park for this "multi-disciplinary, multicultural performance project."
Unmet Transit Needs Hearings Coming Up
Do you have a problem with the local bus system that our transit agencies could fix? Attend one of the upcoming annual Unmet Transit Needs hearings and share your input. (Información en español aquí.) Any information you provide is useful to our local agencies. But it's also important to know that there are legal and funding restrictions that prevent a lot of needed improvements from being made, so broader reforms are needed. Find out more about how this annual process works here.
Fish Farm Appeal Denied, New Commitments Made
While the vote to deny the appeal was unanimous, Supervisor Mike Wilson was still able to secure some changes to the project – including a commitment to an annual report on decarbonization of the truck fleet serving the facility.
Changes Coming to Arcata's 8th and 9th Streets
They will become single-lane one ways between I and K Streets, hopefully with significant bike and pedestrian improvements. Check out a pop-up demonstration Saturday morning, and take the survey to provide your input.
Are You a Member of the Cal Poly Humboldt Community?
Join us at the Sustainable Transportation Fair next Tuesday!
---
Your reports help us advocate for safer streets.
Make a report on Street Story every time you see or experience a new hazard, near-miss or collision. La versión en español está disponible aquí.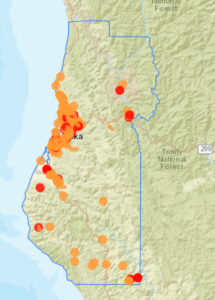 ---
Newsom Signs Bills Requiring Safer Traffic Signals, Traffic Safety Plans
AB 2264 will require most traffic signals to provide a "walk" sign at least 3 seconds before the light turns green for cars, to improve safety and visibility for pedestrians. SB 932 requires cities and counties to incorporate better bike, pedestrian and traffic safety plans into their General Plans.
But He Vetoes Support for E-Bikes, Car-Free Households
Newsom killed a bill that would have provided tax breaks for zer0-car households, and one that would have made an e-bike voucher program permanent – even though that program is already funded and under development.
Second Major City Poised to Ban Right-on-Red
The maneuver, legalized by an obscure provision of a federal energy policy law in the 1970s, has long been known to be dangerous for pedestrians.
Bloated Gas-Guzzler Sales Undoing Progress from EVs
People are buying more electric vehicles. But they're also buying ever-bigger gas-powered trucks and SUVs, so emissions from the transportation sector keep going up.
---
The Collector is CRTP's weekly transportation news roundup, published every Friday. We focus on North Coast news, but we also include relevant state, national and international transportation news – plus other items that we just find kind of interesting! To submit items for consideration, email colin@transportationpriorities.org.