The Collector



November 4, 2022
---
Zoning Laws Have Created Segregated, Car-Dependent Communities
Find out more about the problematic history and continuing impact of exclusionary zoning on our communities in CRTP Executive Director Colin Fiske's article in the EcoNews. (La versión en español está disponible aquí.)
This history is important to remember when thinking about local proposals like Arcata's Gateway Area Plan, which attempts to use a different kind of zoning to encourage a less car-dependent neighborhood that could also accommodate a broader range of people than the single-family zoning that dominates most of the city (and others in the region). This is one of many reasons CRTP supports the Gateway Area Plan. The Arcata Planning Commission continues its debate on the plan next week.
Don't Forget to Vote for CRTP!
North Coast Co-op members: you have until next Thursday (11/10) to vote for CRTP in next year's Seeds for Change register round-up program. All local voters: you have until next Tuesday (11/8) to vote in those other elections, so do that too!
New Arcata Trail Takes Another Step Toward Construction
Arcata's portion of the long-envisioned Annie & Mary Trail will provide a much-needed safe connection for people walking, biking and rolling between the Valley West neighborhood and the rest of town. Environmental documents for the project were released this week. The trail is already fully funded, and we are hoping it moves to the construction phase soon!
Another Tragedy on Broadway
Details are sparse, but our thoughts are with the family and friends of the victim(s).  Every new tragedy renews our determination to get this deadly street redesigned and rebuilt for safety over speed. CRTP continues to participate in Caltrans project planning for Broadway, advocating for near-term safety improvements that will protect everybody.
---
Please report road hazards, near misses and collisions on Street Story.
Your reports can save lives by helping us – and Caltrans and local governments – identify where safety improvements are needed before a tragedy occurs. La versión de Street Story en español está disponible aquí.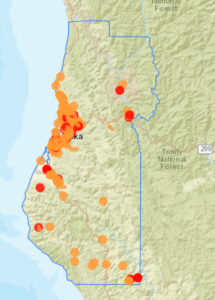 ---
News from Beyond the North Coast
Cities and Towns Across the Country Are Eliminating Costly Parking Mandates
Recent towns to abolish parking mandates include Lexington, Kentucky, and Culver City, California. If they can agree on this common-sense reform in places as diverse as Kentucky and Southern California, why aren't we doing it here?
Fancy New Car "Safety" Tech Isn't Going to Save Us
Despite the hype, it's mostly meant to make driving more convenient – not to save lives.
---
The Collector is CRTP's weekly transportation news roundup, published every Friday. We focus on North Coast news, but we also include relevant state, national and international transportation news – plus other items that we just find kind of interesting! To submit items for consideration, email colin@transportationpriorities.org.