The Collector



November 11, 2022
---
Give Your Input on Humboldt County's Public Transit System
Local transportation planners are developing a new five-year plan for investing in our local transit system, and they need to hear from you! Take the survey to provide feedback based on your experiences riding the bus locally – or the reasons you don't or can't ride the bus without some changes to the system.
More Money, More Meetings?
Next Tuesday, the Arcata Planning Commission will hold yet another meeting on the Gateway Area Plan. This time, it is meant to focus on the proposed community benefits which the plan will incentivize developers to provide – benefits which could include things like bus passes for residents, upgraded bike storage facilities, and contributions to bike share and car share programs.
The next night, Wednesday, the City Council will consider whether to allocate another $118,000 for the Gateway planning process. The additional money has been requested by the Planning Commission to pay for even more meetings as part of the plan review and the development of a form-based code to implement it.
The Planning Commission has been reviewing the Gateway Plan for almost a year, and so far has nothing to show for it. This plan is critically important for meeting local housing and transportation needs. CRTP believes that the City Council should not write a blank check for more meetings without attaching a firm deadline for the final product. The lack of walkable, bikeable, transit-oriented housing is a crisis in our region, and we can't afford to keep waiting forever!
---
Please report road hazards, near misses and collisions on Street Story.
Your reports can save lives by helping us – and Caltrans and local governments – identify where safety improvements are needed before a tragedy occurs. La versión de Street Story en español está disponible aquí.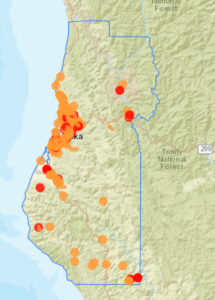 ---
News from Beyond the North Coast
Why Did Voters Reject Prop 30?
Taxing the rich to pay for electric vehicle infrastructure should have been a popular idea in California. But the governor's opposition doomed it.
America's Rural Roads Are Extremely Dangerous
The risk of dying is much higher on a rural road than on an urban street. Part of the reason is roads designed for high-speed driving.
---
The Collector is CRTP's weekly transportation news roundup, published every Friday. We focus on North Coast news, but we also include relevant state, national and international transportation news – plus other items that we just find kind of interesting! To submit items for consideration, email colin@transportationpriorities.org.