The Collector



November 18, 2022
Editor's Note: The Collector is taking a break next week. See you in December!
---
State: Cut Driving 25% by 2030
The California Air Resources Board, which oversees the state's response to the climate crisis, this week released the final draft of its new plan to cut climate pollution. The aspect of the plan that's getting the most attention is its reliance on controversial and unproven "carbon capture" technologies to meet its targets, which will allow polluters to keep polluting longer.
What you won't see in most headlines (but should) is this: the Board concluded that even if everything else goes to plan, we'll have to reduce the collective number of miles driven in the state by 25% by 2030 – and even more by 2045 – in order to avoid total climate chaos. This is a dramatic increase from the last plan 5 years ago, which only called for reducing vehicle miles traveled by 15%. But here's the thing: we're nowhere near meeting even that less ambitious target. In fact, both total and per capita driving have increased over the last several years. That's very bad news for the climate.
Here on the North Coast, driving produces more climate pollution than anything else we do. And people drive their cars for quite a long time before buying new ones, so it will take many years before they can all transition to zero-emission models. That means our collective responsibility to drive less is even greater. Humboldt County's regional Climate Action Plan must reflect this reality, along with all the new housing, commercial and industrial development being planned for our region.
How Safe Do You Feel on Local Trails?
Cal Poly Humboldt master's student Natalie Arroyo is conducting research on "people's perceptions of safety on two local trails – the Hikshari' Trail in Eureka (southern portion of the Bay Trail in Eureka), and the Hammond Trail in McKinleyville (in particular, the portion of the Hammond Trail north of Hiller Park)." She's looking specifically for people who have used these trails very recently, so the experience is fresh in their minds. If that's you, click the link above to take her survey!
---
Please report road hazards, near misses and collisions on Street Story.
Your reports can save lives by helping us – and Caltrans and local governments – identify where safety improvements are needed before a tragedy occurs. La versión de Street Story en español está disponible aquí.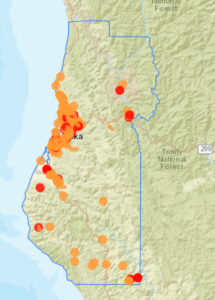 ---
News from Beyond the North Coast
Why Are US Streets So Much More Dangerous Than Streets in Other Countries?
It's not inevitable. It's the result of choices we've made.
Can You Guess Where the Nation's First All-Electric Bus Fleet Is?
If you guessed "Antelope Valley," we tip our hats to you.
---
The Collector is CRTP's weekly transportation news roundup, published every Friday. We focus on North Coast news, but we also include relevant state, national and international transportation news – plus other items that we just find kind of interesting! To submit items for consideration, email colin@transportationpriorities.org.