The Collector



December 2, 2022
---
County Employees to Get Free Bus Passes!
CRTP first proposed the idea of free bus passes for Humboldt County employees several years ago. Progress was stalled by the pandemic, but a pilot program finally launched earlier this year. It was successful, and this week Supervisors made it a permanent program. Let that County employee in your life know that they can now request a bus pass and commute to work for free!
Eureka Police Want Massive SUVs to Take Home With Them
A proposed police department policy assigning vehicles to specific officers would require the city to buy 8 more vehicles. They are proposing to spend half a million dollars on 8 massive, gas-guzzling Chevy Tahoes – exactly the kind of vehicles that are killing more and more pedestrians and supercharging the climate crisis. The City Council will consider the request next Tuesday. We're asking them to reconsider the policy and focus purchasing on safe, zero-emission vehicles.
A year ago, in the face of rising deaths on local streets, Mayor Susan Seaman convened the Eureka Regional Traffic Safety Task Force. The Task Force has helped raise awareness of the crisis, but this latest misstep by the city shows that a lot more work needs to be done.
Funding on the Way for Transit, Trails and More
Most funding for transportation in this state goes through the California Transportation Commission. Next week, they will approve initial allocations of funding for Eureka's EaRTH Center and related route and bus upgrades. In the 1920s, Eureka had a higher quality public transit system than it does today; these new investments are a step toward making regional transit great again.
Also on the Commission's agenda next week are funding allocations for the Eureka's Bay-to-Zoo Trail and C Street Bike Boulevard and for pedestrian and bike improvements in Blue Lake.
Our Comments on Cal Poly Humboldt's Student Housing Project
The blighted "Craftsman Mall" site in Arcata is a great place for student housing, and we support the university's proposed project there. But it needs a few tweaks to make it the kind of climate-friendly, bike and pedestrian-oriented housing that students truly deserve.
---
Please report road hazards, near misses and collisions on Street Story.
Your reports can save lives by helping us – and Caltrans and local governments – identify where safety improvements are needed before a tragedy occurs. La versión de Street Story en español está disponible aquí.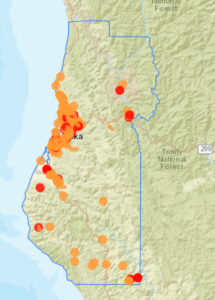 ---
News from Beyond the North Coast
Want More Housing? Get Rid of Costly Parking Mandates
If car-dependent southern cities like Nashville can do it, we can do it here too.
Tips for Youth Bike Advocacy
Know any young people looking to get into bike advocacy – or just to do something about climate change? Pass along this handy guide from CalBike.
---
The Collector is CRTP's weekly transportation news roundup, published every Friday. We focus on North Coast news, but we also include relevant state, national and international transportation news – plus other items that we just find kind of interesting! To submit items for consideration, email colin@transportationpriorities.org.