The Collector



December 9, 2022
---
Three Local Leaders Named 2022 Responsible Transportation Champions
CRTP named our 2022 Champions this week, and they are: Caltrans District 1 Complete Streets team leaders Alexis Kelso and Joseph Caminiti, and Humboldt Transit Authority planner Jerome Qiriazi. Congratulations to all! If you see them around town, be sure to thank them for their work to make walking, biking, rolling and riding the bus safer and more convenient.
SUVs, Walkability and Complete Streets in Eureka
Eureka City Councilmembers echoed our concerns about gas-guzzling, dangerously huge SUVs this week, but then approved the purchase of 8 more of them for the police department anyway. Maybe they think that it would be easier for local residents to adapt to SUVs and climate chaos by growing longer legs, along with gills and webbed feet, than for the police department to find smaller, safer, zero-emission vehicles.
In other topsy-turvy Eureka news, planners there have described a proposed suburban subdivision in Lundbar Hills as "walkable" – despite the fact that it is almost 4 miles from downtown and separated from all major destinations by a high-speed stretch of road with no bike or pedestrian facilities. You can attend next Monday's Planning Commission meeting (or send an email ahead of time) to tell the city to focus on real walkable development – and that that this project, whose 2007 approvals are now expiring, needs an updated environmental review using modern standards before being approved for another 10 years.
But never fear, there's also something happening in Eureka that we can really support! The city's Transportation Safety Commission has developed a Complete Streets Policy based on the one Arcata adopted this year (as a result of CRTP's advocacy). They will decide next Tuesday whether to recommend that City Council adopt it. Attend the meeting or send an email to let the TSC know you support the policy of including bike, pedestrian and transit facilities in all city transportation projects.
There's No Perfect Choice. So What Do We Do?
In the latest episode of the EcoNews Report, CRTP's Colin Fiske joins other local environmental leaders to discuss how we make difficult decisions in our work and in our lives.
---
Please report road hazards, near misses and collisions on Street Story.
Your reports can save lives by helping us – and Caltrans and local governments – identify where safety improvements are needed before a tragedy occurs. La versión de Street Story en español está disponible aquí.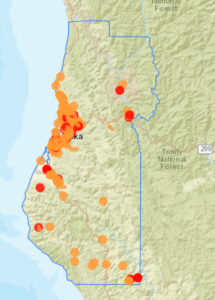 ---
News from Beyond the North Coast
Advocacy Group Scores California Legislators on Transportation
Who are the champions of safe, healthy, clean transportation – and who are the obstructionists? Check out the scorecard.
Denver Voters Approve Dedicated Funding for Sidewalk Improvements
Why should individual property owners be in charge of maintaining sidewalks when the public pays to maintain the streets?
---
The Collector is CRTP's weekly transportation news roundup, published every Friday. We focus on North Coast news, but we also include relevant state, national and international transportation news – plus other items that we just find kind of interesting! To submit items for consideration, email colin@transportationpriorities.org.