The Collector
July 3, 2020
---
Turning Parking Lots into Housing in Eureka?
The City of Eureka will hold a public hearing next week on a proposal to allow development of affordable housing on land currently occupied by under-utilized parking lots. This is the kind of creative approach to infill development that's necessary to meet both housing and driving-reduction goals, and CRTP fully supports the move.
CRTP Teams Up with EPIC, Humboldt Baykeeper on Subdivision Comments
In a second comment letter on the huge McKay subdivision project, we elaborate on the legal insufficiency of the transportation impact analysis and also discuss impacts to ecosystems and wildlife. You can read our first comment letter with EPIC here.
Activists Roll Around Eureka for Rent, Mortgage Relief
Taking to the streets continues to be the preferred method of protest for many. Using wheels lets you cover more ground.
Planning Commission to Consider Samoa Development Permit
The Humboldt County Planning Commission will hold a hearing on a Coastal Development Permit for the long-planned redevelopment and expansion of the Town of Samoa. CRTP is concerned about the impacts of developing more and more housing in areas far removed from public transit and other services.
Arcata Transit System Agrees to Conditional Deal with HSU
Humboldt State students, faculty and staff provide most of the ridership for the Arcata Mad River Transit System. Each year, the university pays the City of Arcata (which operates the system) a fixed amount based on the previous year's ridership figures to cover the cost of the next year's rides. With the new academic year approaching, the city and the university have inked a deal. But ridership predictions are a big question mark due to the ongoing effects of the pandemic on university operations. For that reason, the contract contains a provision to allow renegotiation at the end of October based on actual ridership up to that date. So the system appears to be fully funded for now – but if student ridership stays low (as it probably will), the funding system could come crashing down later in the fall.
County Residents Want Parks
In unincorporated urban areas like Cutten and Myrtletown, the county only maintains one kind of public space: roads. Residents are asking for neighborhood parks, but the county says it doesn't really do that. Here's an idea: allow some roads to function as parks with Slow Streets, public art, and placemaking.
Reminder: Make Your Street Story Reports
9 new hazards and 7 near misses have been reported in the county in the last few weeks. If you see or experience a hazard, near-miss or collision on the street, make your Street Story report here. CRTP uses reports to advocate for change, and local agencies use them to apply for grants and prioritize improvements. Your reports are important!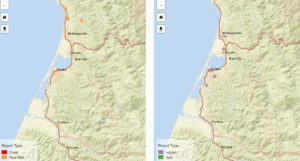 Transportation Commission Approves Bike/Ped Funding, Talks About Equity
Commissioners fulfilled their promise to set aside a full $100 million for active transportation projects, then delved into the issue of transportation equity – a somewhat shocking turn of events for an agency that historically has never seen a highway project it didn't like.
Caltrans Rolls Out New Five-Year Safety Plan
Fatalities have been rising in the state for years, particularly among bicyclists and pedestrians.
Transportation Folded into Bigger Infrastructure Bill
The INVEST Act, House Democrats' transformative transportation bill, has now been incorporated into the much bigger Moving Forward Act, a comprehensive infrastructure bill. Also included: a provision from our very own Representative Huffman to fund a switch to electric mail trucks and charging stations!
Safe Routes to School: Enforcement Is Not a Solution
In light of undeniable inequities in law enforcement nationwide, the national Safe Routes Partnership has eliminated enforcement from its list of guiding principles.
Four Steps Toward Anti-Racist Urban Planning
Recommendations from planner Amina Yasin.
SB 743 Is Now the Law of the Land!
Thirteen years after the law was passed, agencies in California can now no longer consider traffic congestion to be an environmental impact of new projects.
Defund the Police, Fund the DOT?
Berkeley is considering taking traffic enforcement responsibilities away from the police department and giving them to unarmed civilian transportation officials.
Evidence Mounts That Transit Is Not a Major Cause of COVID Spread
Despite what you may have heard.
---
The Collector is CRTP's weekly transportation news roundup, published every Friday. We focus on North Coast news, but we also include relevant state, national and international transportation news – plus other items that we just find kind of interesting! To submit items for consideration, email colin@transportationpriorities.org.