The Collector
July 10, 2020
---
Eureka City Council Approves Housing on Parking Lots
Despite complaints from some nearby tenants, the Council unanimously voted to move ahead with attempts to attract developers to build low-income housing on three city-owned parking lots. CRTP fully supports the move. Below is a photo of one of the parking lots at issue, earlier in the day of the City Council meeting. The number of empty spaces is telling.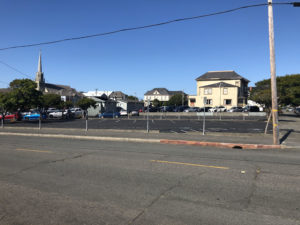 Eureka Street Art Festival Bringing Murals to Henderson Center
There won't be a block party this year. But artists will still be sprucing up the city with cool murals! For those of us who think a lot about the pragmatics of transportation, it's important to remember that art can play an important role in improving the streets.
Eureka Budget, Transit Agreement on Council Agenda
As car-minded pundits like to say, local budgets are "where the rubber meets the road" for policy implementation.
CHP Conducts High-Speed Chase
These kinds of pursuits are notorious for causing injury and death. Luckily, this time the only damage appears to have been to a vehicle.
Reminder: Make Your Street Story Reports
If you see or experience a hazard, near-miss or collision on the street, make your Street Story report here. CRTP uses reports to advocate for change, and local agencies use them to apply for grants and prioritize improvements. Your reports are important!
How About We Don't Include Road-Building in the Next Infrastructure Legislation?
It's just not a good investment.
PG&E Offers EV Savings Calculator
Wondering if an electric vehicle is in your future?
The E-Bike Ad That Couldn't Be Shown on French TV
What's so offensive about it? It makes the car industry look bad.
Will COVID Change Everything?
More experts weigh in on the post-pandemic future of transportation.
Bike Lanes Can Be "Functionally Obsolete" Too
"Functional obsolescence" is the term engineers use to describe infrastructure that no longer meets modern standards. Frequently, it's used to justify very expensive upgrades to vehicle-serving infrastructure. Almost never is it applied to active transportation infrastructure, despite the fact that old bike lanes and sidewalks – and even many new ones – frequently fail to meet modern standards.
Shutdowns Saved a Lot of Animals
The daily death toll of wildlife on American roadways is normally astronomical.
A Bold Proposal for Manhattan
What could the heart of one of the world's great cities look like with no personal automobiles?
---
The Collector is CRTP's weekly transportation news roundup, published every Friday. We focus on North Coast news, but we also include relevant state, national and international transportation news – plus other items that we just find kind of interesting! To submit items for consideration, email colin@transportationpriorities.org.