The Collector
December 14, 2018
---
Arcata Plaza Task Force Conducting Public Survey
Let them know what you think about the Plaza – and about how people should be getting there!
Bike Lane Obstruction of the Week
Parked cars and trucks combine with low-hanging branches to create especially hazardous conditions for bicyclists on School Road in McKinleyville. Send your pictures of bike lane or sidewalk obstructions to colin@transportationpriorities.org.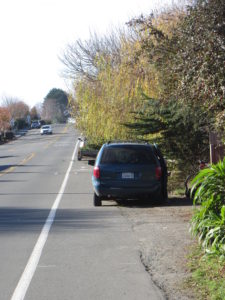 California Lawmakers Introduce a Platoon of Land Use Bills
Looks like housing and transportation will be hot topics in the upcoming legislative session. The North Coast's own Senator Mike McGuire is co-sponsoring one of the most talked-about bills so far.
Terry Gross Talks Driverless Cars
The legendary NPR interviewer talks with former New York City Traffic Commissioner Sam Schwartz about the good, the bad and the ugly of a future dominated by autonomous vehicles.
Federal Research Agency Calls for Public Input on "Mobility as a Service"
The Transportation Research Board is planning a study to investigate the new trend (and hot buzzword) in transportation, and wants to hear from you.
Learning from Experience with Congestion Pricing
It's never easy and rarely popular, but it tends to work.
---
The Collector is CRTP's weekly transportation news roundup, published every Friday. We focus on North Coast news, but we also include relevant state, national and international transportation news – plus other items that we just find kind of interesting! To submit items for consideration, email colin@transportationpriorities.org.