Bike Lane Obstruction of the Week
OK, maybe horse manure is more of a nuisance than an obstruction…but it still shouldn't be in a bike lane! Thanks to an early-morning bike-commuting reader of The Collector for sending this in. You can submit photos of bike lane or sidewalk obstructions to colin@transportationpriorities.org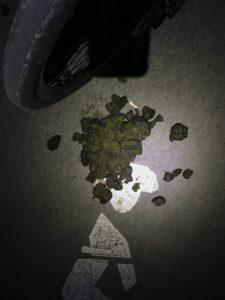 SB 1029 Action Alert
CRTP joined almost every other local group concerned with bike and pedestrian infrastructure this week in issuing an action alert about SB 1029, Senator McGuire's Great Redwood Trail Act. The bill isn't encountering any organized opposition in the legislature, but for it to be meaningful it must be funded! If you haven't already, call Governor Brown's office at 916-445-2841 and ask him to fully SB 1029's transition between the North Coast Railroad Authority and the new Great Redwood Trail Agency.
Plaza Improvement Task Force Vacancies
The City of Arcata's newly formed Plaza Improvement Task Force has three at-large slots for interested and engaged community members, but they have not received enough applications to fill them. If you live or work in Arcata and want to advocate for transportation (and other) improvements to the Plaza, click the link above and fill out an application!
Another Two Meetings on The Village
First Humboldt State University hosted a public meeting to discuss its previously-denied involvement with the project, then the Arcata City Council toured the site and heard more public testimony.
HCAOG Monthly Meeting – More Exciting Than it Sounds!
Among the items on yesterday's agenda was adopting the new Humboldt County Regional Bike Plan.
CTC, CARB to Hold First Joint Meeting
The California Transportation Commission and California Air Resources Board are scheduled to hold their first joint meeting next week to discuss issues of air quality, climate change and transportation. Joint meetings of the two agencies to coordinate their goals will become a regular occurrence as a result of a state law passed last year.
CTC Considers North Coast Projects for Funding
At its own meeting next week, the CTC will consider a large number of funding requests from Caltrans and local agencies for local projects. Those include two bridge retrofits and an electric vehicle charging station on Route 96, upgrades to the Highway 101/299 interchange in Arcata and the 101/Ehler Road intersection in Klamath, some pedestrian improvements to Broadway in Eureka, fish passage barrier removal on Avenue of the Giants, the Martin Slough restoration project, stormwater drainage improvements on Route 36, several Safe Routes to School projects, and more. Perhaps most intriguing are a project which would include construction of a Class 1 bike path along Highway 101 in Arcata from the St. Louis Road overpass to north of Giuntoli Lane and one which would construction tide gates along the US 101 corridor between Arcata and Eureka.
AB 2363 Passes Assembly Committee
The bill, which would re-examine the state's current policy on setting speed limits, passed the Transportation & Housing Committee and has been referred to the Appropriations Committee.
Caltrain Improves Rider Service & Intermodal Connectivity
The newly expanded "bikes board first" program seems to be working out quite well.
Koch Brothers Lead the Fight Against Public Transit Nationwide
Is anyone really surprised?
The Collector is CRTP's weekly transportation news roundup, published every Friday. We focus on North Coast news, but we also include relevant state, national and international transportation news – plus other items that we just find kind of interesting! To submit items for consideration, email colin@transportationpriorities.org.