Bike Lane Obstruction of the Week
This week's obstruction is a parked utility truck completely blocking the lane. Also seen (but not photographed) this week: orange traffic cones, with "temporary no parking" signs taped to them, placed in a marked bike lane. "Temporary"?!?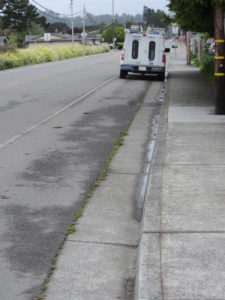 Submit your photos of bike lane (or sidewalk) obstructions to colin@tranportationpriorities.org.
HSU Meeting on The Village, Council to Conduct Site Visit
After months of radio silence, Humboldt State administrators have finally admitted that they will be actively involved in operating the (newly housing-downsized, parking-upsized) student housing project called The Village. HSU will host a "town hall" meeting to answer questions about the project on Monday. Meanwhile, the Arcata City Council continues its consideration of the project with a planned meeting & site visit on Tuesday.
CRTP on the EcoNews Report
Executive Director Colin Fiske was interviewed this week for the KHSU show by EPIC Executive Director (and CRTP Board member) Tom Wheeler. Listen to the archived show for a discussion of interesting transportation planning topics and some CRTP projects.
California Utilities Move Forward with Big Plans for EV Charging Network
Thousands of new charging stations for cars as well as heavy-duty vehicles are planned for locations across the state.
E-Scooters Are the Hot New Transportation Thing – But What to Do About Them?
A bill in the state legislature seeks to define what they are, at least. Meanwhile, Los Angeles and San Francisco crack down on scooter-share programs, but Santa Monica refuses to do the same.
SB 827 is Dead (for Now), But the Debate Continues
Is upzoning around transit a racist gentrification policy or a socially and environmentally responsible way to address the housing crisis? Or maybe it depends on the context?
The Collector is CRTP's weekly transportation news roundup, published every Friday. We focus on North Coast news, but we also include relevant state, national and international transportation news – plus other items that we just find kind of interesting! To submit items for consideration, email colin@transportationpriorities.org.