Bike Lane Obstruction of the Week
This week: parked cars in Arcata (this is an almost daily obstruction at this particular location). Submit your photos of bike lane (or sidewalk) obstructions to colin@tranportationpriorities.org!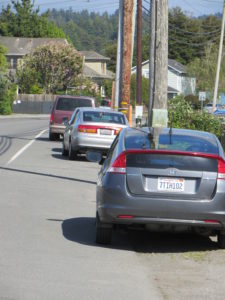 The Village Moves to City Council with Less Housing, More Parking
The Arcata City Council took up The Village student housing project this week after months of marathon Planning Commission hearings. But before they did, the project was once more revised to lower the number of proposed residents to 600 (from an original proposal of 800) and increase the parking spaces provided to 409 (from an original proposal of 366). In other words, its a much less effective infill project than originally proposed, and incentives to avoid car usage have been significantly reduced. This is a clear result of the constant drumbeat of complaints from local residents worried, among other things, about students driving and parking on their streets. Ironically, the changes will likely lead to more traffic impacts from the project rather than less.
Humboldt County Supes to Consider a Budget with More Road Funding
An increase of more than $4 million for road maintenance and repair is proposed. Probably necessary, but it's a drop in the bucket.
Eureka's Transportation Safety Commission Meeting Cancelled
Again. What's going on here? No one would claim that Eureka has no transportation problems to tackle, but the Commission has repeatedly cancelled meetings for lack of agenda items.
Transportation Wins in Statewide Votes
Bike/ped/transit advocates were pretty happy with the results of Tuesday's statewide voting.
Traffic Safety/Speed Limit Bill Heads to the Senate
After passing the Assembly, the so-called "Vision Zero Task Force" bill, which would create a committee to study the wacky way California sets speed limits among other factors influencing traffic injuries and fatalities, has been referred to the Senate Transportation & Housing Committee.
UCLA Study Shows State Transit Ridership is Declining
And recommends how to reverse the decline. Perhaps the most significant suggestion: make transit cheaper (or free) and make driving and parking more expensive, to better reflect the public costs and benefits of each mode of transportation.
Caltrans' Internal Struggles to Address Bike & Pedestrian Safety
A revealing inside look at how things are changing (a little) in the massive agency.
The Collector is CRTP's weekly transportation news roundup, published every Friday. We focus on North Coast news, but we also include relevant state, national and international transportation news – plus other items that we just find kind of interesting! To submit items for consideration, email colin@transportationpriorities.org.