Bike Lane Obstruction of the Week
A parked vehicle blocking a bike lane… again. Well, the pictures reflect the reality! If you see a more interesting or unique bike lane obstruction – or just more parked cars and trash cans – take pictures and send them to colin@transportationpriorities.org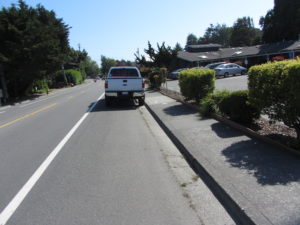 Rails Removed for Fish Passage
Salmon will get access to old spawning grounds blocked by railroad construction a century ago. A story that highlights the importance of unbuilding transportation infrastructure when the time is right for it to go.
Opposition to Great Redwood Trail Act Emerges
Meanwhile, the bill which could convert the whole North Coast rail line to trails will soon be heard in the Assembly Appropriations Committee. The North Coast Railroad Authority, which to date has more or less pretended to be OK with the bill, is finally complaining a bit. As is the Timber Heritage Association. If you think the objections are a bit silly – and we think you do – you might call the Governor's office and let him know you support full funding for SB 1029. Or maybe write your own letter to the editor.
CRTP Submits Comments on Eureka General Plan Update
Summary: the denser infill development proposed will help reduce vehicle miles traveled, but a lot more could be done.
State Money Coming for Trails in McKay Tract
Soon, you'll be able to walk to and through Eureka's new public forestland!
Bike Commuting Reduces Carbon Emissions
No surprise there – but it's nice to have some numbers.
California Carbon Emissions Inch Down, but Transportation Emissions Keep Going Up
There's a lot of work to do to achieve a sustainable transportation system. But you probably knew that, or you wouldn't be reading The Collector.
The Collector is CRTP's weekly transportation news roundup, published every Friday. We focus on North Coast news, but we also include relevant state, national and international transportation news – plus other items that we just find kind of interesting! To submit items for consideration, email colin@transportationpriorities.org.