Bike Lane Obstruction of the Week
This week's obstruction may not look like much, but it can still cause a person on a bike to swerve wildly around it – it's a pile of broken glass! Granted, it may be harder for the responsible public agencies to prevent this kind of obstruction than to, say, ticket parked cars or move trash cans out of the way. But it's still a problem! Send your bike lane or sidewalk obstructions to colin@transportationpriorities.org, and you could be in The Collector!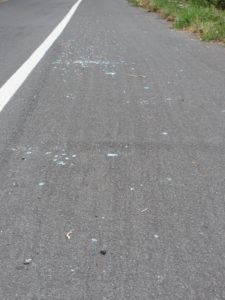 Lots of Local Active Transportation Projects Proposed!
The Humboldt County Association of Governments (HCAOG) Board considered letters of support to the California Transportation Commission for eight proposed local bike/ped projects yesterday, including Phase II of the Annie & Mary Trail, the Little River Trail, the Humboldt Bay Trail South, and the "Bay to Zoo" Trail in Eureka. Go trails!
Funding for Late-Night Bus Service Identified
Meanwhile, the HCAOG Board also discussed a source of funding for late-night weekday bus service identified by staff. Previously, this service had been identified as an "unmet transit need" which could not be funded. This represents real progress toward better transit in our region.
Local "Mobility on Demand" Plan in the Works
In yet more HCAOG news, the agency has issued a request for proposals to develop a "Mobility on Demand Strategic Development Plan" for the county. Keep your eye on this one – it's not clear yet what direction it will take.
Humboldt Slated for Lots of SB1 Money…
…but not nearly enough to keep the roads maintained. Still, things will be a lot worse if the current effort to repeal the bill (which among other things raised the gas tax) succeed in November.
A Nostalgic Ode to the Great Redwood Trail
How can one be nostalgic for something that hasn't happened yet? Just read it.
The Village Hearing Continues
We think you've heard it all by now. If not, this article is for you.
State Train Group Doesn't Like the Great Redwood Trail Act
We know it's hard for those outside the region to understand why local environmentalists might not like trains so much, but they really should do their homework before jumping into such an issue head-first. Oh, and they should have read the most current version of the bill (it actually does not require rail-banking at all, just that a trail be built somewhere on or near the rail right-of-way).
American Cities Have More Parking Than Housing… Way More
In one of the first studies of its kind, five very different American cities were analyzed for the amount of parking they provide. Hint: too much.
The Collector is CRTP's weekly transportation news roundup, published every Friday. We focus on North Coast news, but we also include relevant state, national and international transportation news – plus other items that we just find kind of interesting! To submit items for consideration, email colin@transportationpriorities.org.