Bike Lane Obstruction of the Week
Regular readers of The Collector should be getting the idea by this point that trash and recycling receptacles in bike lanes are a systemic problem in our area. Submit your photos to colin@transportationpriorities.org.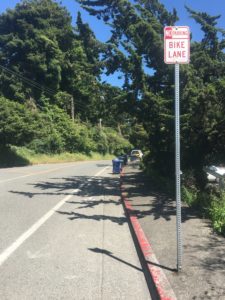 Board of Supervisors Certifies Bay Trail EIR, Addresses Eucalyptus Concerns
The Humboldt County Supervisors approved the environmental review for the last remaining segment of the Humboldt Bay Trail on Tuesday, clearing the way for additional design work, right-of-way negotiation, and (eventually) construction. At a later date, they'll reconsider the issue of removing eucalyptus trees for the trail when they get the opinions of some outside arborists.
Eureka City Council to Take On H & I Street Redesign
Next Tuesday, the Council will continue its discussion of design alternatives for the north-south corridor, with a view to vastly improving bike and pedestrian infrastructure. CRTP agrees with the Humboldt Bay Bicycle Commuters Association and others that the best option involves removing one vehicle lane in each direction and adding buffered bike lanes. If you bike or walk in Eureka, show up and let them know what you think!
(Temporary) Pedestrianization in Old Town
2nd Street in Old Town Eureka was closed to cars recently for an event, allowing people to enjoy the public space without fear for their lives. What a concept! Could there be a permanent pedestrianization in Old Town some day?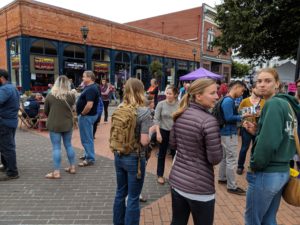 California CAFE Standards Waiver Really Is on the Chopping Block
Earlier this week, it appeared that Trump's EPA might not rescind California's ability to set stricter fuel economy standards for cars, based in part on legal analysis that showed they would likely lose that case in court. But, never an administration to let a losing legal proposition get in its way, they have now proposed to do just that as they attempt to roll back CAFE standards across the nation.
Gas Tax Repeal Supporters Hard at Work Against Transportation Funding
Not only would this November's Proposition 6 repeal the recent gas tax increase and make it virtually impossible to fund public transit, bike and pedestrian infrastructure, its supporters are already planning a follow-up effort that would tie all state transportation funding in knots for decades to come. More commentary on Prop 6 from our friends at TransForm here.
The Collector is CRTP's weekly transportation news roundup, published every Friday. We focus on North Coast news, but we also include relevant state, national and international transportation news – plus other items that we just find kind of interesting! To submit items for consideration, email colin@transportationpriorities.org.