Bike Lane Obstruction of the Week
Low-hanging vegetation is often at just the right level to knock a rider off a bike – unless you swerve out into traffic. Send your photos of bike lane or sidewalk obstructions to colin@transportationpriorities.org.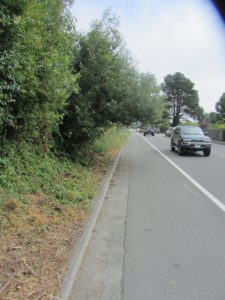 H & I Street Improvements Get Go-Ahead from City Council
After certain conservative City Council candidates decided for some reason that opposing bike/ped improvements in the north-south corridor is good politics, the City Council heard a litany of testimony for and against the proposed improvements at its meeting this week. In the end, the Council voted 4-1 to move ahead with the project – specifically the buffered bike lane design option favored by CRTP, the Humboldt Bay Bicycle Commuters Association, and many local residents.
North Coast Projects on CTC Agenda
The state Transportation Commission will vote next week on the funding eligibility of a sidewalk and crosswalk project in Crescent City and the seismic retrofits of two bridges on Highway 101 in Del Norte. Also on the agenda are several Humboldt County projects, including funding for the long-awaited completion of Eureka's waterfront drive (with bike lanes and sidewalks!); new rumble strips and guard rails on Highway 299 near Blue Lake; a South Fortuna Elementary School Safe Routes to School project; and changes to the Wabash/Broadway intersection in Eureka.
State Route 299 Partially Re-opened Near Redding
Another year, another closure of a major North Coast roadway.
Speed Limit Bill Passes Key Committee
Readers of The Collector may remember that AB 2363 originally proposed allowing somewhat more leeway for local governments and Caltrans to lower speed limits for safety reasons, a procedure that is currently nearly impossible. It's been watered down so that it now proposes only the creation of a task force to explore that possibility (and others), but still could be an important step toward sanity in California's speed limit laws. This week, the bill passed the Senate Appropriations Committee.
SoCal Real Estate Investors Turn to Pedestrianization to Save Retail
Banning cars + adding activities = a winning formula for local business. Arcata Plaza, anyone?
Are E-bikes the Breakthrough Bikeshare Programs Need?
And if so, what does it mean for the way we design our towns and cities?
Uber & Lyft Users Are Rich
The new finding throws another wrench into the already difficult discussions about how cities can responsibly deal with on-demand mobility companies and programs.
The Collector is CRTP's weekly transportation news roundup, published every Friday. We focus on North Coast news, but we also include relevant state, national and international transportation news – plus other items that we just find kind of interesting! To submit items for consideration, email colin@transportationpriorities.org.