The Collector
January 10, 2020
---
Climate Action Plan Meeting Next Week
The County will be holding a workshop next Wednesday at 5:30pm at the Wharfinger Building to take public input on the multi-jurisdictional Climate Action Plan it's been developing. If you read The Collector regularly, you know that the biggest source of local greenhouse gas emissions (by far) is transportation. Come on out and tell the County that if it's serious about climate action, it needs to take bold steps to get people to drive less.
Supervisor Candidates Debate Road Repair
Everyone agrees District 1's roads are in bad shape. What to do about it is the question.
Eureka Committee to Look at Transportation Safety Plan
The city's current plan was written five years ago, and the Transportation Safety Committee will talk about updating it at its Tuesday meeting. There also may be discussion of a future comprehensive parking study for the city – pretty exciting stuff for us transportation nerds!
McKinleyville Town Center Wetlands Scrutinized
At this week's special Town Center meeting, the McKinleyville Municipal Advisory Committee discussed wetland issues with County staff and the public. At issue: which of the common definitions of wetlands should be used for the Town Center, and what are the implications for future development there? We think this focus on the wetland-dominated vacant parcels is distracting from the bigger picture. There's plenty of already-developed land in and around the Town Center that could be re-developed with mixed uses at much greater densities without paving over the wetlands!
Eureka Planning Commission to Consider Capital Improvement Program
New this year: The City's Engineering Department is proposing electric vehicle charging stations in various public parking lots. Oh, and just to balance things out, a new fueling station too.
Weekly Street Story Update: Samoa Boulevard Overpass
Numerous people have reported the Highway 101 Samoa Boulevard overpass in Arcata as hazardous, particularly for bicyclists and pedestrians. Reports note high rates of speed, failure to yield, lack of adequate bike/ped infrastructure, and gravel and other hazards in the narrow shoulders. You can make your own Street Story report here.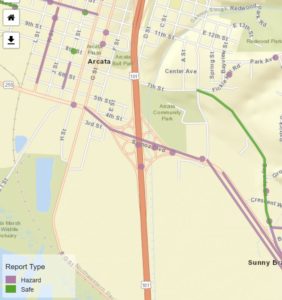 Radical Upzoning Bill is Back
State Senator Scott Wiener has re-introduced his bill to require cities to allow denser housing near transit. The crazy-quilt coalitions that support and oppose it are not backing down.
Huffman Introduces "GREEN Streets Act"
The bill would fundamentally shift federal transportation priorities away from highway building and toward lower-carbon modes of transportation.
New Accessible Scooters Rolling Out in Bay Area
Is it enough to meet some of the mobility needs of people with disabilities?
Meanwhile, E-Scooter Collisions Are on the Rise
Not surprising, given that e-scooter travel is skyrocketing.
Trump Administration Preempts State Truck Pollution Limits…
…with its own set of weak national standards that look like they were written by the trucking industry.
---
The Collector is CRTP's weekly transportation news roundup, published every Friday. We focus on North Coast news, but we also include relevant state, national and international transportation news – plus other items that we just find kind of interesting! To submit items for consideration, email colin@transportationpriorities.org.