The Collector
January 3, 2020
---
Parking Crater Project Canceled by County
But many residents of the current housing on the site have already left under threat of eviction. The County hasn't met its obligations under state law to provide relocation assistance – which includes ensuring former residents have comparable access to active transportation and transit as they did originally.
Next McKinleyville Town Center Meeting on Wednesday
Topics will include natural resource protection, open space, land use and design. None of which, if we're being honest, can be accurately discussed without also talking about transportation.
Last Chance Grade Geotechnical Open House Next Week
On Wednesday, Caltrans will be holding a meeting in Crescent City to answer questions about the Last Chance Grade geotechnical study environmental document. This is a critical first step in the much larger Last Chance Grade highway realignment project, which will likely not be completed for over a decade.
Asked About Renewable Energy, A Supervisor Mentions Transportation
Supervisor Madrone brought up the need for electric buses and a better trail system to address the transportation system's energy use.
Weekly Street Story Update: Henderson Center Revisited
As we reported 6 months ago, lots of hazardous conditions have been reported in the Henderson Center area of Eureka. Now that more of the details of those reports are available, a clear pattern emerges: The urban arterial roads which come together here – including F St, H St, I St and Harris St – are designed to encourage fast driving and do not contain adequate amenities for safe walking and biking. You can make your own Street Story report here.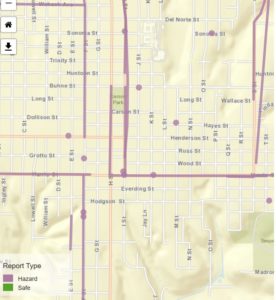 Caltrans Spending Updates Show State Priorities
While Caltrans says it's "taking a turn toward active transportation," it's still working with a funding system that dedicates the vast majority of funding toward building and maintaining highways for cars and trucks. While the $200 million that SB 1 generated for active transportation is a significant improvement over past funding levels, it pales in comparison to the more than $50 billion for the State Highway System Management Plan which is almost entirely focused on vehicles.
E-Bikes and E-Scooters Vetoed in New York
Governor Cuomo vetoed a bill that would have legalized the new forms of transportation, citing the lack of requirement for riders to wear helmets. You can find some of our previous coverage of bike helmet requirements here.
---
The Collector is CRTP's weekly transportation news roundup, published every Friday. We focus on North Coast news, but we also include relevant state, national and international transportation news – plus other items that we just find kind of interesting! To submit items for consideration, email colin@transportationpriorities.org.