The Collector
December 20, 2019
---
Vehicle, Pedestrian and Bike Access Are Focus of Creekside Homes Discussion
The Arcata City Council discussed the Creekside Homes project this week. Creekside is one of the bigger residential projects to come before the city in recent years. Much of the discussion by Council – and objections from neighbors – focused around transportation issues, specifically: how many vehicular access points should there be and where, and what about active transportation? People raised serious concerns about safety issues arising from increased traffic. Unfortunately, what was missed in all of this discussion was how the project itself could be designed to minimize driving. You can read CRTP's previous comments on the project here.
Arcata Committee Talks Street Story, Plaza Street Closures, and Accessible Design
The city's Transportation Safety Committee had a packed agenda this week. CRTP's Colin Fiske shared information about Street Story, and committee members discussed how to integrate it into future work. Also, North Coast Growers Association's Portia Bramble announced that they have reached agreement with Arcata Main Street to close 8th Street on the Plaza during Saturday farmers markets, and CRTP hopes to provide bike valet services in that area. Finally, the committee heard from local advocate Peggy Martinez about the problems with roundabouts (and other common street designs) for blind and sight-impaired pedestrians.
Plaza Task Force on Winter Break
Arcata's Plaza Improvement Task Force isn't meeting this month. However, it's expected to meet in January – and that might be its very last meeting before making final recommendations to City Council. Will the recommendations call for a more pedestrian-friendly Plaza? What will the Council do with those recommendations? We wait with bated breath.
Another Person Dies on Broadway
Two people driving cars appear to have hit and killed a person on foot, and both then fled the scene. And yet you may note the use of passive voice in the headline, which grammatically removes the drivers from the equation, and the inclusion in the police press release of a report that the person walking was "outside of the crosswalk." Broadway is literally a death-trap for pedestrians and bicyclists, and the number of victims only keeps growing. Any hint that these victims are in some way to blame for their fates should be thoroughly rejected. The fault lies with the design of the road and with the drivers who are performing an inherently dangerous activity, not with people simply trying to cross the street.
Last Chance Grade Geotechnical Project Document Released
Exploratory drilling and other work will be needed in order to determine the feasibility of various potential new routes for Highway 101 at Last Chance Grade. Now is the time for public comment on the environmental impacts of this part of the much bigger long-term project.
Weekly Street Story Update: Read the Reports!
Street Story now allows users to view the details of a report with a click of the mouse. You can find out exactly what hazards, crashes, and near misses people are reporting for each dot or line on the map. You can also make your own Street Story report here.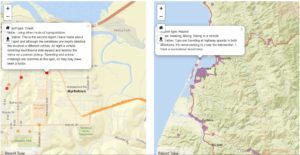 New Report on Transportation and Health Equity
Where we live has a huge impact on our health – and transportation is a big reason for that.
International "Streets for Kids" Design Guide in the Works
Could we design streets as places kids can play – as they once were – rather than dangerous places where we have to look both ways before even stepping in?
---
The Collector is CRTP's weekly transportation news roundup, published every Friday. We focus on North Coast news, but we also include relevant state, national and international transportation news – plus other items that we just find kind of interesting! To submit items for consideration, email colin@transportationpriorities.org.