The Collector



December 17, 2021
Editor's Note: We'll be taking the next few weeks off to spend time with family. But never fear, The Collector will return in 2022!
---
Arcata Gateway Area Plan Discussions Begin in Earnest
As we reported last week, the new draft plan is the most bike and pedestrian friendly land use plan we've ever seen in our region. At Planning Commission and City Council meetings this week, opinion was split about the plan itself, but almost everybody agreed on the need for infill housing and prioritization of bikes, pedestrians and transit. Those skeptical of the plan just seemed to think there's some other, dramatically different way to get there. Spoiler alert: there's really not. Don't forget, if you're a CRTP member or join in the next month, you can hear directly from Community Development Director David Loya about the plan at our January Member Meeting. You can find our initial comments here.
Join CRTP Today!
CRTP is in the middle of our annual membership drive right now. If you're not already a CRTP member, what's holding you back? Click on the link above and join today.
Proposed Land Swap Would Scrap Eureka Housing on Parking Lots
This spring, as the City of Eureka prepared to implement plans to build affordable housing on three more city-owned downtown parking lots, certain business owners revolted and declared that private car storage was more important than affordable housing. Now, the City appears to have given into that pressure. On next Tuesday's City Council agenda is a proposed land swap with Pierson Property and Development, in which the city would trade the three downtown parking lots for some land Pierson owns on Broadway. City staff claim that the Pierson property – which is already approved for a 43-unit apartment complex – could produce more housing than the three parking lots they're trading. CRTP says they should do both: stick to the original plan and let Pierson build its housing, too, rather than set the disturbing precedent of officially (and wrongly) declaring that building affordable housing on downtown parking lots "will have a detrimental effect on the local economy."
Anti-Coal Ordinance Back on Eureka City Council Agenda
Also on Tuesday's agenda is the latest iteration of the city's ordinance responding to the threat of coal trains taking over the old North Coast Railroad Authority line. CRTP strongly supports this ordinance and other efforts to stop the coal train nightmare and save the Great Redwood Trail.
Arcata Committee to Continue Discussion of Complete Streets Policy
Next Tuesday, the Transportation Safety Committee will again consider a policy requiring the city to implement bike, pedestrian, and transit facilities whenever they do a street project. The policy is based on a model produced by RCCER (see below).
Bay Trail South One Step Closer to Construction
The Humboldt County Board of Supervisors this week approved purchase of some land and easements for the long-awaited trail.
CRTP Joins Local Environmental Groups in Support of Safe Parking
"We support parking management as a strategy to discourage unnecessary car use and thus
reduce the environmental impacts of transportation, but not as a strategy for removing unhoused people from our communities."
---
Don't Forget to Make Your Reports on Street Story
Report the hazards, collisions and near-misses you've experienced on local streets, so we can use the data to make things safer in the future. Local residents have made 871 reports (and counting) on Street Story. La versión en español está disponible aquí.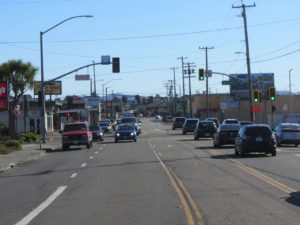 ---
Meet RCCER
Check out the new North Coast environmental political action group. Full disclosure: although CRTP has no relationship with RCCER, our Executive Director Colin Fiske is one of the founding members.
In New Densification Strategy, County Looks to Standardize Duplexes
Humboldt County has put out a call for architects and designers to submit duplex plans for pre-approval, hoping to ease the way for providing slightly more housing in residential areas.
Last Chance Grade Update
Environmental documents are expected to be ready for public review in 2023.
Big Utility Companies Join Forces to Build EV Chargers
We're all for building electric vehicle infrastructure as fast as possible, but we think it's funny how an industry that stridently resists the switch to clean energy suddenly becomes concerned about the climate crisis when it realizes it can make a buck.
---
The Collector is CRTP's weekly transportation news roundup, published every Friday. We focus on North Coast news, but we also include relevant state, national and international transportation news – plus other items that we just find kind of interesting! To submit items for consideration, email colin@transportationpriorities.org.