The Collector
August 23, 2019
---
HSU Chooses Child Care Over Car Parking
In a refreshing display of reasonable priorities, the university announced that its Trinity Annex building, until recently slated to be demolished for a new parking lot, will instead be used as a child care center. Prioritizing kids over cars…imagine that! Maybe the County will follow their lead?
Planning Humboldt's Energy Future
Over the next few months, the Redwood Coast Energy Authority will be re-writing its comprehensive plan for energy in Humboldt County. The plan focuses on electricity – including the recently adopted goal of getting to 100% clean and renewable electricity by 2025 – but will also touch on transportation, one of the major uses of energy in the county. The first opportunity to have your say is at a meeting next Thursday in Eureka.
Housing is Unaffordable in Humboldt
The average household in the county can't afford the average home in the county. Building more suburban subdivisions won't help. Will the County actually prioritize affordable infill housing projects? (Incidentally, that would also make transportation more affordable – walking, biking, and taking the bus are only feasible in denser mixed-use areas, and they're all much cheaper than owning a car!)
Arcata Transportation Safety Committee Takes on Weighty Topics
At its meeting this week, the committee discussed the proposed Creek Side Homes residential development project, improvement of trail crossings, partial street closures during farmers markets, and more. September's meeting will focus on parking. Perhaps they'll consider the evidence that abundant free parking causes more people to drive.
State Transportation Commission Coming to Del Norte
Mark your calendars: They'll hold a town hall on November 6th.
Take the Arcata Housing Survey
Let the city know what you think about what kinds of housing should be encouraged – and where.
Weekly Street Story Update: South Eureka
Traditional sources of street safety data include only collisions reported to the police. Street Story provides a way to report "near misses" as well. That's critical because research indicates that locations with numerous near misses are likely to experience a collision in the future. Street Story reports so far in south Eureka may be providing a warning sign: a growing number of near misses in areas where few actual collisions have been reported yet. You can make your Street Story report here.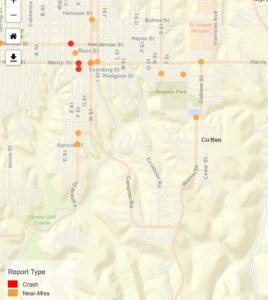 Caltrans Fights Dirty Against Complete Streets Bill
Caltrans was named and shamed by state legislators this week for vastly overinflated cost estimates and other underhanded tactics aimed at sinking SB 127, which would require the agency to build more bicycle and pedestrian infrastructure on many of their roadways. Hey, wait a minute…hasn't Caltrans repeatedly said it's already committed to doing this? Then why the big fuss? Anyway, it didn't work – the bill still moved ahead. But the Assembly Appropriations Committee only has a week to take final action on the bill before it will be declared dead for the session.
Amtrak Bus Bill Moves Ahead
Meanwhile, SB 742 – which would allow Amtrak to provide bus service independent of its train service – was approved unanimously by the Assembly Appropriations Committee and now moves on to the Assembly floor.
You Can't Call Them Accidents
It's been said that you can get away with murder simply by getting into a car. Drivers, after all, are rarely held to account for actions which result in the deaths of other people on the street.
---
The Collector is CRTP's weekly transportation news roundup, published every Friday. We focus on North Coast news, but we also include relevant state, national and international transportation news – plus other items that we just find kind of interesting! To submit items for consideration, email colin@transportationpriorities.org.