The Collector
August 16, 2019
---
Tear Down Housing for a Parking Lot? No Thanks.
CRTP weighs in. And for the record, we're not in favor of a parking garage, either. That would cost even more per parking space – a lot more – and just encourage more driving.
McKinleyville Has a New Active Transportation Committee
The McKinleyville Municipal Advisory Committee has formed an ad hoc subcommittee on active transportation and trails, and its first meeting is next Wednesday. Come on out to show support for better bike, pedestrian and bus infrastructure in Mack Town!
CRTP Submits Comments on Creek Side Homes Project
Main takeaways: This could be a good project, but it needs less parking and more transportation alternatives – and it could use some more housing, too.
Arcata Plaza Task Force Considers Recommendations
At its meeting on Thursday, the Task Force began discussing which specific recommendations to make to City Council and how to implement them. Among the draft recommendations, 6 of the top 10 were related to improving non-vehicular transportation design!
Weekly Street Story Update: Highway 36
It's no secret that Highway 36 between Carlotta and Bridgeville is dangerous – whether you're in a vehicle or not. Street Story reports are confirming that. You can make your Street Story report here.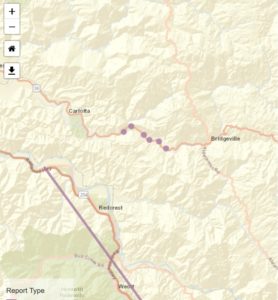 Holmlund Stepping Down as Eureka Development Director
Rob Holmlund has led the way in Eureka's revitalization by focusing on denser, mixed-use, less car-focused infill development. Will the city's next Development Director continue in this direction, or will we return to the old-fashioned (but still common) car-centric approach to development?
Caltrans Complete Streets Bill (SB 127) Set for Hearing Next Week
At the same hearing, the Assembly Appropriations Committee will consider the bill to allow Amtrak to run bus service independent of its train lines (SB 742). This is likely that last major hurdle for both bills.
As Trinidad Hotel Moves Forward, So Does Highway Interchange
Let's not forget about that part of the project.
How Long Until Highway 101 is Under Water?
Maybe not that long.
Our State's Struggle with Cars
A thoughtful big-picture look at the challenges facing California as we face the necessity of reducing car use.
New York & San Francisco Re-Think Car-Dominated Streets
If they can do it, can't we?
Bike-Share, Scooter-Share…Moped-Share?
These new transportation systems appearing suddenly on city streets could play a valuable role in reducing driving and addressing the "last mile" problem of public transportation. But it's a challenge to roll out new ideas in cities designed around cars.
---
The Collector is CRTP's weekly transportation news roundup, published every Friday. We focus on North Coast news, but we also include relevant state, national and international transportation news – plus other items that we just find kind of interesting! To submit items for consideration, email colin@transportationpriorities.org.