The Collector
August 30, 2019
---
Supes Move Forward on Eureka Land Purchase
Final decisions on whether to buy it and how to develop it are in the future. Will it be a parking lot? Members of the public had some pointed comments. "'This parking lot thing is the opposite of the whole thing we did this morning,' said one speaker, referencing the board's earlier decision to create an advisory committee to address climate change." Indeed. Or as another commenter asked: "Maybe managers could carpool?"
New County Zoning Rules Adopted
At the same meeting, the Supervisors adopted new zoning rules to implement the 2017 General Plan update. While a lot of the discussion – and all the media coverage – was about timber zoning, they also adopted rules for the new mixed-use zones to be located in town center areas. The rules include the possibility of reduced parking requirements – but you'll still have to get a special permit for that, despite CRTP's best efforts. Oh, and the Supes voted to move ahead with forming a Climate Advisory Committee, too.
Arcata Annie & Mary Trail Connectivity Project Report Available
The project aims to connect the existing Bay Trail North to the future Annie & Mary Trail along West End Road. The draft project report is available online, and the Arcata City Council will be discussing it at their meeting next Wednesday.
Another Driver Kills Another Pedestrian on Highway 101
Highway 101 is often the main route, and sometimes the only route, between locations on the North Coast. It must be made safer for people without a vehicle.
Weekly Street Story Update: The McKinleyville Gateway Area
An group of concerned citizens, now working through the McKinleyville Municipal Advisory Committee's new ad hoc Active Transportation Committee, has been trying to get safety improvements on Central Avenue in what is sometimes called the "South Gateway" to McKinleyville – from the highway ramps to the shopping center. Anyone who's traveled this area knows it's terrifying and dangerous if you're on foot, on a bike, or need mobility assistance. Street Story reports confirm hazards, collision(s), and a near miss in the area. You can make your Street Story report here.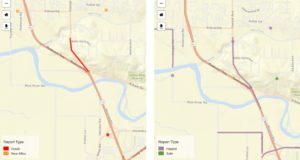 Supervisor Candidate Says Trails Are a Priority
Full disclosure: CRTP Executive Director co-hosts the Happy Trails segment with Berkowitz on KHUM once a month. Listen to our latest segment here.
McKinleyville Municipal Advisory Committee Talks Town Center
The idea is as popular as ever. When will it actually happen?
Bike-Friendly Bills Advance
Check out CalBike's informative legislative update.
---
The Collector is CRTP's weekly transportation news roundup, published every Friday. We focus on North Coast news, but we also include relevant state, national and international transportation news – plus other items that we just find kind of interesting! To submit items for consideration, email colin@transportationpriorities.org.