The Collector



May 6, 2022
---
May Is Bike Month!
Next Thursday is Bike to Work Day in Arcata. Add a stop on your bike commute at the North Coast Co-op between 7 and 9:30 am for free snacks, drinks, and more. And don't forget about the dozens of other businesses offering special deals to people who bike next week.
Another CRTP Co-Sponsored Candidate Forum Next Week
Tune in to hear from candidates for the Humboldt County Fourth District Supervisor seat on a variety of important topics – including transportation. Last week's Fifth District forum – and subsequent reporting – yielded interesting responses from the candidates about transportation, land use, the climate crisis, and the McKinleyville Town Center plans. We note that, despite all the talk about the "rural lifestyle," the majority of Fifth District residents live in urban/suburban McKinleyville.
More Gateway Discussion at the Arcata Planning Commission
The Commission will continue talking about the transportation-related parts of the plan next Tuesday evening. They will also discuss proposed changes to General Plan land use designations throughout the city. Check out what City Council candidates have to say about the Gateway Plan and other topics here.
New Federal Street Safety Funds Available
The new Safe Streets and Roads for All program will provide funding for local governments to develop and implement Vision Zero "comprehensive safety action plan." The Technical Advisory Committee of the Humboldt County Association of Governments (HCAOG) discussed the new Safe Streets and Roads for All program at its meeting this week. We deeply hope that our region's local governments take advantage of this funding and develop comprehensive and effective safety plans.
Planning Work Continues for Last Chance Grade
Caltrans is in the midst of conducting engineering and environmental studies for what is hoped to be a permanent solution to the constantly sliding segment of Highway 101.
---
Street Story Helps Make the Case for Safety Projects
Local advocates, agencies, and the public can use the reports of hazards, collisions and near-misses on local streets. Local residents have made 913 reports so far. Are you making your reports? La versión en español está disponible aquí.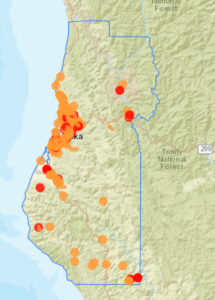 ---
Fortuna City Council Approves a Little Infill Development
At the same meeting, they recognized bike month and committed to prioritizing street safety.
Newsom Wants to Give Drivers Money
Legislative leaders are pursuing what seems to us like a better idea – give money to people who need it, regardless of whether they own a car.
Transportation Equity Expert Appointed to State Commission
Not so long ago, it seemed like California Transportation Commissioners never saw a big highway project they didn't like, and didn't give much thought to other modes of transportation at all. That's slowly changing.
"Bike Omnibus Bill" Passes State Assembly
AB 1909 would make several legal changes to encourage the use of both regular bikes and e-bikes.
Why Are Electric Vehicles Still So Expensive?
It's complicated. But mostly because of marketing decisions made by the big automakers.
---
The Collector is CRTP's weekly transportation news roundup, published every Friday. We focus on North Coast news, but we also include relevant state, national and international transportation news – plus other items that we just find kind of interesting! To submit items for consideration, email colin@transportationpriorities.org.