The Collector



April 29, 2022
---
May Is Bike Month!
The fun kicks off on Sunday with a bike scavenger hunt in Arcata, and continues with Walk, Bike and Roll to School Day next Wednesday. Don't forget to register for the friendly Love to Ride bike challenge for a chance to win some prizes, and check out the perks local bike-friendly businesses are offering riders during the month. The May EcoNews also has several great Bike Month features worth a read.
CRTP Co-Sponsored Candidate Forum Next Week
Tune in to hear from candidates for the Humboldt County Fifth District Supervisor seat on a variety of important topics – including transportation.
Supporters Show Up at Gateway Plan Meeting
A steady stream of people supporting dense, infill housing development in the Gateway Area asked the Arcata Planning Commission on Tuesday to keep moving the plan forward with an equitable, time-efficient process. The Commission took a small step in that direction with a promise to (tentatively) schedule further in advance which topics in the plan will be reviewed at which meetings.
Check Out the Plan for Safety Pop-Up Demonstrations on Broadway
This is the first step toward the near-term safety improvements we've been advocating for. While we've learned that the pop-ups won't be ready for Bike Month as previously planned, they should be coming soon thereafter. We'll keep you posted.
Old Arcata Road Project to Be Heard by County Planning Commission
Because a very small portion of the long-planned project is actually on unincorporated county land, the County Planning Commission will be discussing it next Thursday.
---
Street Story Helps Make the Case for Safety Projects
Local advocates, agencies, and the public can use the reports of hazards, collisions and near-misses on local streets. Local residents have made 913 reports so far. Are you making your reports? La versión en español está disponible aquí.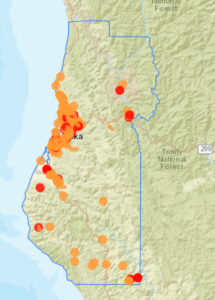 ---
More on That Fee to Clean Up Abandoned Vehicles
Imagine if we had vehicle registration fees to cover the other costs imposed by cars on our communities – injuries and deaths, air and water and noise pollution, climate chaos, social isolation…
More Sidewalk Improvements Coming
Buried in the Humboldt Board of Supervisors' agenda this week was a report on the upcoming "Phase 2" of the County's multi-year ADA sidewalk improvement project (expect more improvements in the McKinleyville and Eureka areas) and an agreement with Caltrans around its plan to improve sidewalks on 5th Street in Eureka.
What's Keeping Our Air (Relatively) Clean?
We don't have as many cars as other parts of the state. But that doesn't mean the number of cars and trucks we do have is healthy.
Groups Organize for Free Public Transit for California Youth
There's a bill in the state legislature that would actually do that! And while you're advocating, you may as well ask legislators to give some of their budget surplus to local transit agencies too.
---
The Collector is CRTP's weekly transportation news roundup, published every Friday. We focus on North Coast news, but we also include relevant state, national and international transportation news – plus other items that we just find kind of interesting! To submit items for consideration, email colin@transportationpriorities.org.