The Collector



April 22, 2022
---
Arcata City Council Shows Support for Complete Streets Policy
At its meeting this Wednesday, the three Councilmembers present all indicated support for the draft policy and for CRTP's suggested amendments to make it even stronger and more equitable. However, adoption was delayed due to the Transportation Safety Committee's desire to review the policy further.
Countywide Climate Action Plan Available for Public Review
After many months of delay, the draft plan – which would cover Humboldt County and all its incorporated cities – is now posted on the County's website for public review. Transportation is the source of most of our region's climate-harming emissions. Does the plan do enough to rein in emissions from cars and trucks? Stay tuned for CRTP's hot takes.
Drive-Throughs Welcome?
The majority of the Eureka City Council did not seem enthusiastic about banning drive-through businesses when the topic came up on their agenda this week, but additional discussions and a public workshop are likely in the future.
Fish Farm Commits to Transportation Measures
In advertisements leading up to yesterday's Humboldt County Planning Commission meeting, Nordic AquaFarms confirmed that it has committed to a transportation management plan which will incentivize employees to commute by carpool, van pool, transit, or bike. Working with our allies, CRTP helped negotiate this commitment, along with the company's commitment to purchase 100% renewable energy. There are more questions that remain to be answered about this huge project and its impacts, but these are important steps in the right direction.
Gateway Plan Meetings and Public Process
The Arcata Planning Commission is expected to hold another meeting on the draft plan next Tuesday. CRTP and our allies think it's important to point out that a long series of technocratic commission meetings is not a recipe for equitable public engagement. And also: local housing and transportation systems are in crisis. We can't afford many more delays in delivering dense infill development.
Bike Month is Almost Here
May is Bike Month! Check out the fun local events being planned by the Bike Month Humboldt Coalition.
---
Make Your Reports on Street Story
Local advocates and agencies use your reports of the hazards, collisions and near-misses you've experienced on local streets to help make the case for safety projects. Local residents have made 913 reports so far. La versión en español está disponible aquí.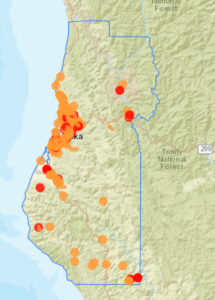 ---
Free "Go Slow" Yard Signs Still Available
The Greater Eureka Area Traffic Safety Task Force would like to remind you that any Humboldt County resident can still get those yard signs for free at Eureka City Hall.
Will North Coast Communities Get More Infrastructure Dollars?
A new Biden administration initiative aims to help rural areas access federal money for transportation and other infrastructure.
Farhad Manjoo on the Urgent Need for Systematic Bike Safety Improvements
The New York Times columnist gets it right once again.
Gas Prices Lead Biden to Break Campaign Promise on Drilling
Our addiction to gas-guzzling vehicles leads to yet another self-destructive decision by an elected official.
---
The Collector is CRTP's weekly transportation news roundup, published every Friday. We focus on North Coast news, but we also include relevant state, national and international transportation news – plus other items that we just find kind of interesting! To submit items for consideration, email colin@transportationpriorities.org.