The Collector



April 15, 2022
---
Want to Learn About Transportation Issues? Read a Book!
CRTP is excited to announce that we now have our own collection of books available to check out from the Northcoast Environmental Center library. Ranging from Walkable City Rules to Policing the Open Road, we've got ten informative and interesting titles available right now, with more to come in the future. Go ahead, educate yourself!
Arcata City Council to Consider Complete Streets Policy
Next Wednesday, the Council is expected to consider adopting a policy that would require new street projects – including repaving and repair – to include all feasible infrastructure improvements for walking, biking, rolling and riding the bus. CRTP strongly supports this policy, which is based on a model provided by the Redwood Coalition for Climate and Environmental Responsibility.
Eureka City Council to Consider Banning New Drive-Throughs
At its meeting next Tuesday, the Council will give staff direction on how to deal with the issue of new drive-through businesses. One of the options on the table, which CRTP fully supports, is a ban on new drive-throughs. These businesses encourage driving, make walking and biking less safe, and keep foot traffic away from other local businesses. Who needs 'em?
Cal Poly Humboldt Adopts New Climate Action Plan
The new "CAP 2.0" includes a number of significant new transportation measures, such as policies to not provide parking passes for first-year students and students who live within a mile and a half of campus. It also promises to investigate providing bus passes to faculty and staff (students already get them) and providing health insurance discounts to employees who walk or bike to work. We're encouraged by this plan, but confused by the fact that it is accompanied by seemingly conflicting plans to build a bunch of new parking on campus. To find out more, you can register for a forum the university is holding next Monday.
Increased Focus on Housing
A new article in the North Coast Journal highlights the importance of building new housing in areas where people don't have to drive so much. Meanwhile, a local agency is seeking artists to "convey the hardships and barriers that Humboldt residents (or potential residents) face due to the shortage of housing at all levels, but especially affordable housing, or the lack of housing near school, work, services, or other basic needs." And Humboldt County is publishing a handbook to encourage small-scale infill development through accessory dwelling units.
Major Milestones for Local Trail Projects
In case you missed it, the final segment of the Humboldt Bay Trail received an important approval recently, and funding is on the way to replace the Hammond Trail Bridge.
Yet Another Meeting About the Gateway Plan
At the umpteenth public meeting about the plan, the Arcata Planning Commission promised to hold even more meetings in the coming months. CRTP pointed out that the way to actually get diverse and equitable input is through the other kind of meeting that staff have been conducting – going to community groups and other places where people already gather and talking about what matters to them in the plan. Endless hours of mind-numbing Commissioner textual analysis, on the other hand, is likely to winnow down participation to only a few die-hard public meeting enthusiasts.
---
Make Your Reports on Street Story
Local advocates and agencies use your reports of the hazards, collisions and near-misses you've experienced on local streets to help make the case for safety projects. Local residents have made 911 reports so far. La versión en español está disponible aquí.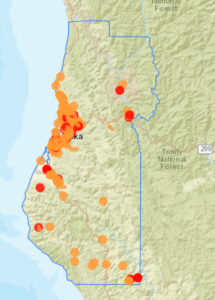 ---
We Have Plenty of Unmet Transit Needs
We just don't have any way to meet them. That's the now-familiar conclusion of the required annual assessment, set to be adopted by the Humboldt County Association of Governments Board next week. It's a sign of a deeply broken funding system for public transportation in the country, the state and the county.
Police Warn of Gasoline Theft
Here's what they don't mention: no one can steal your fuel if you walk, bike or ride the bus!
Air Resources Board Publishes Draft Rules on Phasing Out Fossil-Powered Cars
But it won't happen fast enough to meet climate goals. Which is one of the reasons to just drive less.
The Movement for Cleaner Freight Transportation
Local podcaster Wendy Ring highlights some inspiring people-powered victories.
---
The Collector is CRTP's weekly transportation news roundup, published every Friday. We focus on North Coast news, but we also include relevant state, national and international transportation news – plus other items that we just find kind of interesting! To submit items for consideration, email colin@transportationpriorities.org.