The Collector



May 13, 2022
---
Eureka City Council to Talk Street Closures, Climate Action Plan
The city finally closed some downtown streets to protect pedestrians during last week's Arts Alive, but some businesses aren't happy about it. Also on Tuesday's agenda: a review of the current draft regional Climate Action Plan.
Bike Month Continues!
Next Thursday is Bike to Work Day in Eureka. Add a stop on your bike commute at the North Coast Co-op between 7 and 9:30 am for free snacks, drinks, and more.
4th District Candidates Talk About Transportation
One of the first questions answered by the candidates was from CRTP. Check out the video to see what they each said about reducing the role of cars in out communities. Check out some related comments they made at a different forum here.
Arcata Complete Streets Policy Moving Forward
The city's Transportation Safety Committee (TSC) will discuss the draft policy on Tuesday, and the City Council is expected to adopt it on Wednesday. If so, it will be the first (but hopefully not the last) local government to officially adopt a policy requiring the inclusion of bike, pedestrian and transit improvements in almost every street project. Also on the TSC's Tuesday agenda are a speed study for 11th Street, one of the city's main thoroughfares, and a discussion of developing a local road safety plan.
Blue Lake Mixed-Use Housing Project Proposed
We love a good affordable housing project, especially when combined with commercial space to help reduce trip lengths. Two parking spaces for every single unit seems a little excessive, though, even in a car-dependent town like Blue Lake. Just think of all the additional housing that could fit in the same space with a little less parking!
CRTP Executive Director to Present at Street Story Webinar
Register for the webinar to hear about how CRTP and Caltrans District 1 are using Street Story in our region. And keep making those reports!
Property Negotiations Continue for Annie & Mary Trail
At its meeting on Thursday, the Humboldt Bay Municipal Water District discussed easements for the section of trail from Arcata to the first Water District pump station.
---
Street Story Helps Make the Case for Safety Projects
Local advocates, agencies, and the public can use the reports of hazards, collisions and near-misses on local streets. Local residents have made 914 reports so far. Are you making your reports? La versión en español está disponible aquí.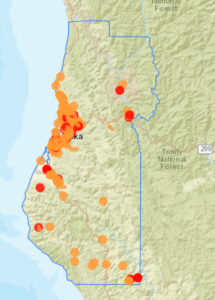 ---
Huffman Grills Federal Railbanking Agency About Great Redwood Trail
Check out the video of our North Coast Congressman questioning the chair of the federal Surface Transportation Board about coal trains and trails.
Groups Ask State for Accelerated Timeline for Zero-Emission Cars
Check out and sign the petition co-sponsored by local climate action group 350 Humboldt. While you're at it, you can also sign this petition asking for faster action to cut climate-harming emissions from all sources.
State to Adopt New Guidelines for Major Transportation Funding Program
The updates include an increased emphasis on active transportation and more requirements for early project planning transparency from Caltrans. Also on next week's California Transportation Commission agenda are tentative approval for new Humboldt Transit Authority bus purchases and appointment of Arcata Mayor Stacy Atkins-Salazar to a statewide committee charged with coming up with a way to charge drivers by the mile to help fund infrastructure (meant to replace the gas tax, though here at CRTP we think the gas tax should stay too).
---
The Collector is CRTP's weekly transportation news roundup, published every Friday. We focus on North Coast news, but we also include relevant state, national and international transportation news – plus other items that we just find kind of interesting! To submit items for consideration, email colin@transportationpriorities.org.