The Collector



May 20, 2022
---
Arcata Adopts Region's First Complete Streets Policy!
The new policy requires bike, pedestrian and transit improvements in almost every street project. This policy should dramatically speed up the completion of safe, comfortable, and convenient transportation networks for car-free travel.
Federal Agency Opens the Door to Coal Train Threat
This week, the Surface Transportation Board ruled that coal interests could continue with their bid to take over the old North Coast Railroad Authority right-of-way and block the creation of the Great Redwood Trail. CRTP and the No Coal in Humboldt coalition are gearing up to make sure this doesn't happen. The STB also ruled that the Annie & Mary line was legally abandoned long ago, a decision which will make it much harder to find land for the long-planned Annie & Mary Trail from Arcata to Blue Lake. (Thankfully, the trail portion that is closest to construction within Arcata city limits is mostly unaffected.) This ruling is disappointing, but not surprising from an agency that promotes railroads above all else, and doesn't consider trails a "valid public purpose."
Arcata Planning Commission to Consider Gateway Streetscape Plan
The streetscape design is intended to follow best practices for creating safe, comfortable, engaging places to walk and bike. Show up next Tuesday evening to give your input.
Person Killed by Driver While Walking in Arcata
We mourn the loss of Troy Rassbach, and we say again: It is the responsibility of our government agencies (in this case Caltrans) to design safe roads, and it is the responsibility of drivers to prevent loss of life from the massive, dangerous machines they are operating at high speeds.
City Councils Discuss Draft Climate Action Plan
The plan got a generally positive reaction in Eureka and Arcata, but had some doubters in Fortuna. Because most of our region's climate-harming emissions come from transportation, much of the plan's focus is on reducing car and truck travel and transitioning to zero emission vehicles.
Bike Celebration Tomorrow!
It's still Bike Month, so don't miss Saturday's Bike Celebration at the Jefferson Community Center in Eureka. CRTP will be there – will you?
---
Street Story Helps Make the Case for Safety Projects
Local advocates, agencies, and the public can use the reports of hazards, collisions and near-misses on local streets. Local residents have made 919 reports so far. Are you making your reports? La versión en español está disponible aquí.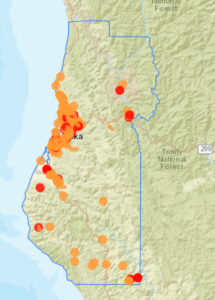 ---
Indianola Interchange Project Exceeds Budget (Again)
The Humboldt County Association of Governments (HCAOG) has devoted millions of local transportation dollars to the project already. Their Board discussed the latest budget issues at its meeting yesterday.
Car Brakes and Tires Emit a Lot of Pollution
In the case of health-harming particulate matter, they may even emit more than the exhaust pipes. Find out more at an upcoming research webinar.
Know an Elected Official Who Supports Complete Streets?
Encourage them to apply for this national training on how to be an effective champion for bike, pedestrian and transit infrastructure.
---
The Collector is CRTP's weekly transportation news roundup, published every Friday. We focus on North Coast news, but we also include relevant state, national and international transportation news – plus other items that we just find kind of interesting! To submit items for consideration, email colin@transportationpriorities.org.