The Collector



May 27, 2022
---
Arcata Council to Hear Update on Gateway, Other Infill Plans
Next Wednesday, the Council will review a report of the planning process to date. At the same meeting, they will consider a number of possible housing and community development projects to apply for a new state funding opportunity. Meanwhile, Council candidates discussed related topics at a recent forum.
Even More on That Gateway Plan Review Process
The city's Planning Commission will continue to hold meetings throughout the summer. This is the most walkable, bikeable, transit-friendly plan ever produced in our region, and CRTP strongly supports it. But so far, most of these meetings have featured a parade of the same small cast of characters railing against every aspect of the plan. If you want to see the dense infill housing and car-light transportation designs promised by the Gateway Plan, please consider showing up at some of these meetings to voice your support.
Another Car-Culture Restaurant Coming to Broadway
The drive-through establishment considered by the Eureka Design Review Committee this week will have 3 times as many parking spaces as required by the zoning code. This car-oriented design encourages even more of the dangerous traffic that already plagues Broadway, even as vulnerable road users continue to be hit by drivers. Plus, if this were a pedestrian-oriented project, all that space devoted to parking and drive aisles could instead host more tax-generating commercial uses, or even housing. In fact, this exact property did host low-income housing not very long ago. From our perspective, this is a perfect example of the need to stop allowing these wasteful building designs in our communities.
McGuire To Host Town Hall on Coal Train Threat
Tune in next Wednesday to hear from our State Senator and others about the latest decision by federal regulators.
Eureka Parking Lot Housing Projects Will Look a Little Different
After losing out on some state funding, the developer of the proposed infill housing projects at Sunny & Myrtle, 6th & M, and 8th & G Streets will be trying again with a slightly different design – including, unfortunately, a reduction in density.
Active Transportation and Health
Check out CRTP's latest piece in the EcoNews. And while you're there, read this great article about street safety as well.
Grand Jury Urges Action on Sea Level Rise
Many streets, roads and trails are among the critical pieces of infrastructure that will be threatened by rising water levels around Humboldt Bay in the coming decades.
We're Actually Even Further Behind on Housing Production Than We Thought
EPIC Executive Director (and CRTP Board Member) Tom Wheeler lays out why the population projections that form the basis of state housing requirements are probably wrong, and makes the case for more infill housing.
McKinleyville Shoulder Widening Goes Out to Bid
The project will help improve safety on Central Avenue near Bella Vista, a notoriously dangerous area where multiple people have lost their lives while walking or biking.
---
Street Story: The Public Platform for Street Safety
Local residents have made 923 reports so far. Are you making your reports? La versión en español está disponible aquí.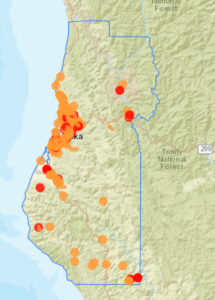 ---
Humboldt County Planning Director Resigns
John Ford has been a central figure in many local transportation and land use issues, from the McKinleyville Town Center to the regional Climate Action Plan to the McKay subdivision project. It remains to be seen how his departure will affect all of these important plans and projects.
Transportation Bills Moving in State Legislature
Bills which passed the Assembly this week include one providing free transit passes for kids, one that prohibits local governments from requiring parking at new developments near transit, one requiring the state to develop bike parking standards for new buildings, one legalizing "safety stops" for bikes, one decriminalizing "jaywalking", one requiring transportation funding to align with climate targets, and many more.
Oregon Moves Forward with Major Parking Reform
A state agency recently voted to mandate that city's eliminate many of their minimum parking requirements. California could be next.
How Much Money Is Newsom Giving to Active Transportation?
Not enough.
California's Transportation System Produces Even More Emissions Than We Thought
Emissions reductions from "low-carbon fuels" produced by industrial dairies are being double-counted in the state's greenhouse gas inventories.
Submit Your Comments on Proposed New Car Safety Ratings
The federal government is actually acknowledging the existence of people outside of cars in their new ratings, which is an improvement. But they're still not doing nearly enough.
---
The Collector is CRTP's weekly transportation news roundup, published every Friday. We focus on North Coast news, but we also include relevant state, national and international transportation news – plus other items that we just find kind of interesting! To submit items for consideration, email colin@transportationpriorities.org.