The Collector



June 3, 2022
---
Have We Defeated the Coal Train or Not?
On Wednesday night, state Senator Mike McGuire announced that the shadowy coal train company that intervened in the railbanking process last year had failed to actually file its attempt to take over the rail line. But then on Thursday morning the filing showed up after all, with the coal train backers asking for permission to file late because their attorneys had been on vacation. It's unclear whether the federal regulatory agency in charge (the Surface Transportation Board) will accept that excuse. Even if the coal train company's bid fails, though, the Skunk Train's parent company also filed notice of its intent to take over part of the rail line near Willits for freight trains, which would punch a hole right in the middle of the future Great Redwood Trail. So the fight is far from over.
VOTE!
Next Tuesday is Election Day, and there are many important contests at the local, state and federal level that will help determine the future of our transportation systems and communities.
Humboldt Supervisors to Discuss Climate Action Plan
We expect the Supervisors to take up the draft plan at their meeting next Tuesday. This will hopefully be the last stop before it moves on to the full environmental review process – where we will be advocating to strengthen the plan and to ensure that our local communities are set up to actually implement it before 2030.
Eureka Waterfront Plan Workshop Next Thursday
Show up and support walkable, transit-oriented infill development!
State Requirements Mean Gateway Plan Has to Move Forward Quickly
And most or all of the new housing units have to be approved ministerially. Those were among the messages Community Development Director David Loya brought to the Arcata City Council this week. CRTP is excited to get a look at the form-based code that will fill in a lot of the details and to see this plan approved without much more delay.
It's Local Government Budget Season
The Eureka City Council will be considering its Fiscal Year 2022-23 budget next Tuesday, and the Arcata City Council will be holding a budget study session the same night. If you think more local dollars should go to sidewalks or bikeways or transit, let your elected officials know.
Little River Trail Virtual Workshop Next Week
Provide input on the plans to connect McKinleyville and Trinidad with a trail and bridge over the Little River near Clam Beach. And don't forget to celebrate all trails with local National Trails Day events on Saturday!
What Role Does Transportation Play in Humboldt's Economic Development?
Healthy, sustainable transportation is not currently listed as a local economic development priority, but you can fill out the survey and suggest it! On a related note, we've learned that the Headwaters Fund Board is currently seeking new members – maybe they could use a transportation-minded person like you, dear reader.
---
Street Story: The Public Platform for Street Safety
Local residents have made 933 reports so far. Are you making your reports? La versión en español está disponible aquí.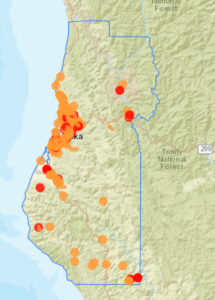 ---
Cars Are Just the Second Leading Killer of Kids Now
Deaths by car have long been so pervasive that they are used as a yardstick for other causes of death.
Negotiations Heat Up in Sacramento
The governor and the legislature continue to fight over whether the best way to help people deal with inflation is to send everyone a check, or (unbelievably) only help people with cars. Also remaining on the table is how to spend the billions earmarked for climate action.
Parking Mandates Are Holding Us Back
Farhad Manjoo explains another important transportation issue with his typical clarity and power.
Gas Prices Are Still High
But remarkably little public discourse considers alternatives to driving, and people still have a "mental block" about buying electric vehicles.
Robot Taxis Coming to San Francisco
They can't handle bad weather or busy pedestrian streets, but the state just approved the first fleet of driverless taxis anyway.
---
The Collector is CRTP's weekly transportation news roundup, published every Friday. We focus on North Coast news, but we also include relevant state, national and international transportation news – plus other items that we just find kind of interesting! To submit items for consideration, email colin@transportationpriorities.org.