The Collector



June 10, 2022
---
What Is the Coal Train Company Hiding?
It doesn't appear to have the money it says it does. But its bid to take over the rail lines, along with more limited bids by groups like the Skunk Train and a Humboldt Bay "bikes on rails" start-up company, still have the very real potential to prevent many local commuter trails and the broader Great Redwood Trail from becoming reality. CRTP continues to work with our allies in the No Coal in Humboldt coalition to stop the coal train and protect the future of our active transportation system in the region.
Climate Action Plan Proceeds to Environmental Review
The Humboldt County Board of Supervisors voted to move the regional plan forward, but not before adding caveats about protecting the "rural lifestyle" (read: car-dependency) and other constraints which could severely undermine effective climate action. The Supervisors were the last stop before the plan moves to the environmental review phase. We'll see if and how the plan changes during environmental review.
Eureka Is Experimenting with Lane Reductions on 6th and 7th Streets
Check out the demonstration this week, and fill out the survey to show your support!
Another Pedestrian Killed on Highway 101
A bicyclist was also hit by a driver at a notorious intersection in McKinleyville, but fortunately survived. We are saddened and outraged by these incidents and continue to call for safer streets and highways in our region, along with a culture of responsibility for drivers.
Parking Lot Housing Project Designs Back for Review Next Week
The Eureka Design Review Committee will be considering modified building designs next Wednesday. Hopefully these changes will help secure funding so that the car storage areas can be replaced with walkable, transit-oriented housing sooner than later!
---
Street Story: The Public Platform for Street Safety
Local residents have made 934 reports so far. Are you making your reports? La versión en español está disponible aquí.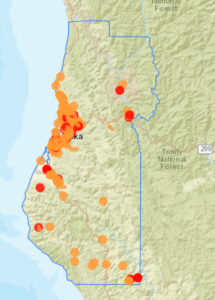 ---
Charge for Parking, Get Money to Spend on Other Cool Stuff
Find out how to do it in your community with this handy guide for activists.
The District of Columbia Wants You to Pay for Your Enormous Vehicle
Want to drive a huge, dangerous vehicle that does a lot of damage to the street? In Washington, DC, you'll soon have to pay a hefty vehicle registration fee for the privilege. Could this be a model for local ordinances addressing "truck bloat" in other communities?
They Said Technology Would Save Us
All the fancy safety gadgets in new cars these days have not managed to lower the death toll on the roads.
Hawaiian Kids Sue Over Emissions from Transportation
The state's failure to reduce climate-harming emissions is threatening their future.
---
The Collector is CRTP's weekly transportation news roundup, published every Friday. We focus on North Coast news, but we also include relevant state, national and international transportation news – plus other items that we just find kind of interesting! To submit items for consideration, email colin@transportationpriorities.org.