The Collector



June 17, 2022
---
Great Redwood Trail Railbanking Saga Continues
As you've probably heard, the federal Surface Transportation Board rejected the attempt by shadowy coal interests to take over our region's old railroad corridor. That's great news, and we hope this is truly the end of the coal train threat (although we will continue to monitor for further developments). In the meantime, the STB let another rail line takeover attempt move forward. So we'll have to keep working to stop a different corporation – the parent company of the Skunk Train – from punching a hole in the middle of the future Great Redwood Trail north of Willits. Watch this space for more updates in the coming weeks and months.
Free Bus Rides in Humboldt!
Gas prices getting you down? Dump the pump and take the bus for free today on all local routes. Plus, anyone under the age of 18 can ride free all summer long!
Arcata Transportation Committee to Discuss Road Safety Plan
The process to develop a citywide plan is just beginning.
Arcata Planning Commission Keeps Slogging Through Gateway Plan
This week's meeting focused on non-transportation infrastructure, but walkable development is the core of the plan and is always front and center. We continue to advocate for moving forward with plan adoption and implementation as rapidly as possible to help address our overlapping crises of housing, climate, and transportation safety.
---
Street Story: The Public Platform for Street Safety
Local residents have made 937 reports so far. Are you making your reports? La versión en español está disponible aquí.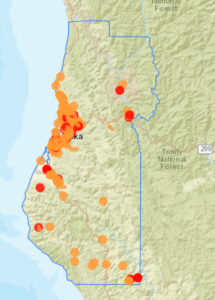 ---
Transportation Bills Moving in Sacramento
Plus, a new bill that would provide a tax break if you don't own a car. Imagine that!
How a Whole Country Eliminated Costly Parking Mandates
New Zealand has the highest car ownership rates in the world, but its national government has almost entirely eliminated local government mandates for car parking in new development.
---
The Collector is CRTP's weekly transportation news roundup, published every Friday. We focus on North Coast news, but we also include relevant state, national and international transportation news – plus other items that we just find kind of interesting! To submit items for consideration, email colin@transportationpriorities.org.