The Collector



June 24, 2022
Editor's Note: The Collector will be taking a summer break for the next 2 weeks. But never fear, we'll be back online and in your inbox by mid-July!
---
The Coal Train is Really and Truly Dead
The time for an appeal has come and gone, so the decision rejecting the coal interests' bid to take over our rail line is now permanent. It's a moment to celebrate! The parent company of the Skunk Train, however, continues to fight to take over part of the line near Willits, which would still strike a significant blow to the vision of the Great Redwood Trail.
Gateway Saga Continues
The Arcata Planning Commission will review the draft plan's housing chapter at its meeting next Tuesday. Meanwhile, disgraced Councilmember Brett Watson seems to have aligned himself with anti-Gateway activists as part of his ongoing campaign to undermine city staff. We are deeply disappointed that some of the discourse around this bike and pedestrian-friendly infill plan has devolved into toxic personal attacks, and we continue to advocate for quick and effective review and approval of the plan.
Broadway Demonstration Meeting Next Week!
Pop-up demonstrations coming this summer are part of the effort to implement near-term bike and pedestrian safety improvements on the region's most dangerous roadway. Find out more here, and show up at Tuesday's meeting to support a major makeover of Broadway.
McKinleyville Committee Reviews New Draft of Town Center Ordinance
It's getting better, but we still have concerns about its ability to facilitate a truly walkable town center. Read CRTP's complete comments on the latest draft here.
Caltrans Asks for $22 Million More for Dr. Fine Bridge Project
The Highway 101 bridge replacement near Crescent City now will cost nearly $90 million, making it one of the most expensive projects in our region in decades. We can't help but think how many protected bike lanes, sidewalks and road diets could be built with that amount of money.
Local Households Spend a Lot on Cars
After mortgage or rent, car loans and car insurance are the next biggest bills paid by the average Eureka household. And that doesn't even count the cost of gas! Transforming our communities so that people can walk, bike, roll or take the bus where they need to go is one of the biggest things we can do to make it more affordable to live here. (And those same cars cost local governments a lot too: just removing vehicles abandoned on the street costs over $100,000 a year in Humboldt, let alone the costs of maintaining the road network, responding to collisions, treating injuries, and on and on.)
---
Street Story: The Public Platform for Street Safety
Local residents have made 943 reports so far. Add a report any time you see a hazardous spot or experience a collision or near miss. La versión en español está disponible aquí.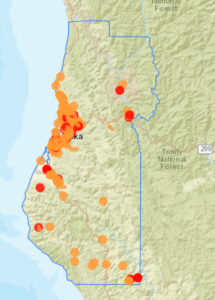 ---
New State Climate Plan Falls Short
CRTP's Executive Director joins other local environmental leaders to interview statewide expert Professor Dan Kammen about the plan.
Fight Continues Over the "Kill Bike Share" Bill
AB 371, which just passed another committee in the state legislature, would impose onerous insurance mandates on bike and scooter sharing systems.
Police Are Not the Answer
People often think that the solution for safer streets is more enforcement of traffic laws. But pervasive bias in law enforcement and the sometimes tragic consequences of traffic stops of black and brown drivers cannot be ignored.
Biden Calls for Gas Tax Holidays
The move would just encourage more driving and more emissions while putting a big hole in already strained transportation budgets.
---
The Collector is CRTP's weekly transportation news roundup, published every Friday. We focus on North Coast news, but we also include relevant state, national and international transportation news – plus other items that we just find kind of interesting! To submit items for consideration, email colin@transportationpriorities.org.