The Collector



July 15, 2022
---
Humboldt Transit Authority Wins Big Grant for Transit Center, Hydrogen Buses
The downtown Eureka EaRTH Center will provide a much-needed transit center along with centrally located housing. The grant also funds the purchase of zero-emission buses capable of making the long regional bus routes in Humboldt and a new express route all the way to Ukiah.
Eureka May Be Next Local City to Adopt a Complete Streets Policy
At its meeting this week, the city's Transportation Safety Commission formed a subcommittee to develop a complete streets policy. As a reminder, Arcata recently became the region's first local government to adopt a policy requiring bike, pedestrian and transit facilities be included in all street projects. With this new development, we hope Eureka won't be far behind!
Arcata Transportation Committee to Discuss Gateway Plan
The latest meeting on the bike and pedestrian-friendly infill development plan will be next Tuesday. And if you missed the city's recent primer on form-based codes like the one intended for the Gateway Area, you can still watch it here.
Eureka Council to Talk Waterfront, Sea Level Rise, Traffic Enforcement
The Council will hear an update on efforts to develop a pedestrian-friendly plan for the waterfront, adopt a resolution committing to more efforts to address sea level rise, and accept a grant for traffic enforcement in the name of safety. On the last topic, we remind the city that traffic enforcement is notoriously biased and, especially in the case of pedestrian and bicycle enforcement, often punishes people just for trying to use streets that weren't designed for them.
Arcata's Bus System in Desperate Need of Investment
Check out the commentary by CRTP Board Member Peggy Martinez.
More Public Art Coming to Eureka's Roads and Bridges
This year's Eureka Street Art Festival will be in the "Bridge District" along the northern waterfront. Research suggests that, in addition to creating a more engaging and welcoming environment for pedestrians, public art can actually improve street safety.
Public Meeting on Student Housing Environmental Analysis
In case you missed it, Cal Poly Humboldt is planning to build 1,050 new student beds at Arcata's Craftsman Mall site. Next Wednesday, there will be a virtual meeting for the public to provide input on which topics the required environmental impact analysis should cover. Might we suggest a review of the climate and safety impacts of associated transportation infrastructure?
Update on Last Chance Grade
At a recent town hall, Caltrans and elected officials shared information on the slow but steady progress being made toward a permanent fix for the troubled section of highway.
---
Street Story: The Public Platform for Street Safety
Local residents have made 943 reports so far. Add a report any time you see a hazardous spot or experience a collision or near miss. La versión en español está disponible aquí.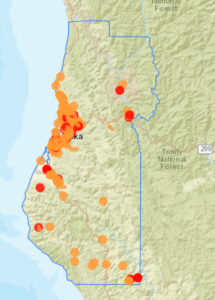 ---
Caltrans Has a New Director
It remains to be seen whether Tony Tavares will continue the progress of former Director Toks Omishakin, who was the first director in the agency's history to make active transportation and transit a real priority. In related news, the agency just released its first action plan for complete streets.
Climate Outlook Seems Grim in Wake of Supreme Court Decision
Transportation, of course, is the nation's leading source of greenhouse gas emissions.
Pedestrian Deaths Surging Nationwide
The latest edition of the Dangerous by Design report highlights how the US – unique among the rich nations of the world – has seen a huge increase in pedestrian fatalities during the pandemic. The biggest increases came in cities and states that already had high death rates – because they have designed streets and communities for speeding traffic rather than for safety.
Infill Development is the Smart Fiscal Choice for Local Governments
Sprawl is expensive.
---
The Collector is CRTP's weekly transportation news roundup, published every Friday. We focus on North Coast news, but we also include relevant state, national and international transportation news – plus other items that we just find kind of interesting! To submit items for consideration, email colin@transportationpriorities.org.