The Collector
September 27, 2019
---
Shifting Recommendations from Plaza Task Force?
Last month, the Arcata Plaza Improvement Task Force ranked possible recommendations to the City Council and ended up with a list that included a lot of improvements to bicycle and pedestrian infrastructure – including closing some areas to cars. At its meeting this week, the Task Force unveiled the rankings of specific implementation measures. Several improvements for bikes, pedestrians, and buses were highly ranked. However, in apparent contrast with the prior recommendations, the highly ranked implementation measures also seemed to call for increased parking off the Plaza and no changes at all to the parking and driving areas that dominate the Plaza itself. The conversation will continue at the Task Force's next meeting and an upcoming City Council study session. Stay tuned.
McKinleyville Town Center Inches Closer to Reality
At its meeting this week, the McKinleyville Municipal Advisory Committee discussed how to move forward in coordination with County planning staff to develop an ordinance implementing the long-envisioned McKinleyville town center. That process will likely begin within the next month or two, and there will be at least a few opportunities for more public input. The design of the future town center – and the pattern of development around it – will play a huge role in determining transportation choices in the county largest unincorporated community.
The Climate Action Plan and Active Transportation
Humboldt County's Climate Action Plan coordinator (and CRTP Board member) Connor McGuigan was the guest on this week's edition of Happy Trails on KHUM. He talked about how the Plan will try to increase walking, biking and transit use in the county, and how the public can get involved.
Trucker's Parade Rescued by Rex
Meanwhile, in Sacramento, Governor Newsom signed SB 210 and SB 44 this week, which will subject trucks and other heavy-duty vehicles to smog checks for the first time and require the state to come up with a comprehensive strategy for reducing their emissions. Maybe it's time for a bike parade.
Organizations Ask Newsom to Sign Caltrans Complete Streets Bill
The bill could have a big impact on the North Coast, where state highways act as main streets in many communities.
North Country Fair Bike Valet a Success
Despite Sunday's rain, CRTP provided free bike valet services for more than 70 people over the weekend at the annual North Country Fair.
Visitor from Redding Loves the Fact That Eureka's Downtown Isn't a Parking Lot
It's an interestingly timed commentary, given recent choices by the City Council and Board of Supervisors.
Weekly Street Story Update: Is Safety in the Eye of the Beholder?
In addition to hazards, collisions and near misses, safe places can also be reported on Street Story. However, only 5 of the 417 reports received so far have been for safe spots. One such location reported as safe by a user is the intersection of 2nd and F Streets in Old Town Eureka. But only half a block away on F Street, a collision has also been reported. More reports will likely be needed to get a better sense of what makes people (feel) safe or unsafe in this area. You can make your Street Story report here.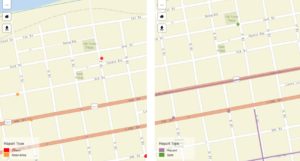 Trump EPA Blocks Fuel Economy Rules, Threatens Punishment for Bad Air Quality
As the climate crisis grows and tailpipe emissions increase nationwide, the US Environmental Protection Agency has moved to block California from imposing stricter fuel economy standards. (The state has had the right to impose such standards since the federal Clean Air Act was passed decades ago, and is now suing to keep it.) Meanwhile, the EPA has also singled out California for not meeting federal air quality standards and threatened to punish the state by withholding…wait for it…highway funding! How ironic it would be if, through its own twisted political machinations, the Trump administration forced dirtier cars on the state and then kept the state from maintaining the roads for them to drive on.
Don't Drive – Organize!
If we've said it once, we've said it a thousand times – electric vehicles are great, but we still need to drive a lot less.
Can Smaller Cities Get to Zero Traffic Deaths?
A lot of them are certainly trying.
---
The Collector is CRTP's weekly transportation news roundup, published every Friday. We focus on North Coast news, but we also include relevant state, national and international transportation news – plus other items that we just find kind of interesting! To submit items for consideration, email colin@transportationpriorities.org.