The Collector
September 20, 2019
---
Eureka City Council Gives Its Blessing to That Parking Lot…
According to the City Council, demolishing affordable housing downtown to build a parking lot (and maybe eventually a County building on top of it) is totally in line with the city's new General Plan. Which was supposed to encourage denser housing and active transportation in the city's core. Hmm.
…And That Fast Food Traffic Signal
The Eureka City Council also gave final approval this week to paying for a traffic signal to serve new fast food restaurants on Broadway. In other words, the city is subsidizing one of the most car-centered land uses possible.
Bike to the Climate Strike (and the North Country Fair!)
There are at least two local rallies to mark today's international climate strike. CRTP volunteers will be providing bike valet for the Eureka rally. After all, driving is the leading source of greenhouse gas emissions locally and nationally. We'll also be providing bike valet all weekend at the North Country Fair. So wherever you go this weekend, ride your bike (or walk or take the bus)!
HCAOG Board "Relieved" About Corridor Project Cost Increase
As we reported two weeks ago, Caltrans is now projecting major cost increases for the Highway 101 "safety corridor" project, at least in part because of a major oversight in engineering the proposed Indianola interchange. The agency initially projected a cost increase of almost $35 million, but now says it will only cost $20 million more – and says it will pay for the increase with state money. Apparently that was enough for the Humboldt County Association of Governments to send a lukewarm letter expressing "relief" that things aren't any worse.
Annual Unmet Transit Needs Hearings Under Way
If you have an unmet transit need, let local transportation planners know at one of the public hearings around the county over the next few weeks or online. The McKinleyville hearing next week will also include a discussion of the future town center!
Another Driver Hits Another Pedestrian on Broadway
The person walking was said to have "major injuries." As one commenter on this article noted: "It seems like we've reached the threshold of accidents [sic] per mile where CalTrans and Eureka might look at the problem some more." Also this week, a driver hit and killed a pedestrian in Orleans.
Arcata Housing Workshop Next Week
The City of Arcata is looking for input on "options to meet our growing housing needs." The location of housing has a lot of influence on what transportation choices people make.
Weekly Street Story Update
As of this week, there are more than 400 Humboldt County reports on Street Story! CRTP is pleased with the participation so far and will be using the data to advocate for safety improvements on local roadways. You can make your Street Story report here.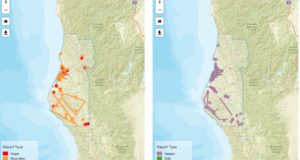 Senate Transportation Bill Is More of the Same
The first federal transportation funding bill to make it out of committee includes a few small nods to the climate and safety crises, but mostly sticks to funding more highways for cars. As usual.
A Call for "Universal Streets"
The American Society for Landscape Architecture has released new guidelines that call for streetscapes designed for universal accessibility. The new guidelines go beyond the complete streets paradigm to focus on people with disabilities as well as ecological design and spaces for socializing.
---
The Collector is CRTP's weekly transportation news roundup, published every Friday. We focus on North Coast news, but we also include relevant state, national and international transportation news – plus other items that we just find kind of interesting! To submit items for consideration, email colin@transportationpriorities.org.