The Collector
September 13, 2019
---
Arcata Committee to Hold Annual Parking Meeting
Maybe the Transportation Safety Committee should focus more on places to park our bikes and our rear ends than our cars. Whatever your opinion, come out on Tuesday and let them know.
Local Climate Strike Activities Next Friday
Transportation is our largest local source of greenhouse gas emissions – so go to the rallies by foot, bike, bus or carpool.
Free Rural Transit Works!
A locally produced, widely syndicated podcast is out with a new episode talking about the challenges of rural transit systems and how going fare-free can help. The episode features an interview with CRTP Executive Director Colin Fiske.
Another Weekend, Another Car Show
Our local (and national) love affair with cars was on full display in Eureka this week.
Caltrans Has a New Director
In a major departure from tradition, he has a background in urban planning and active transportation rather than traffic engineering. He's even on the Board of Directors of advocacy group America Walks. Could this be a turning point for the historically car-centric agency?
Weekly Street Story Update: Herrick Avenue
The entirety of Herrick Avenue, and about half of the intersections along it, have been reported as hazards in Street Story over the last few months. Planners take note. You can make your Street Story report here.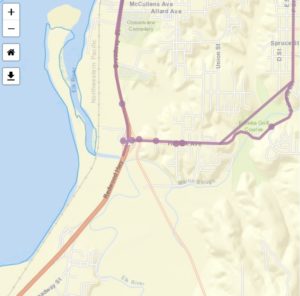 California Has Too Much Parking and Not Enough Housing
State policymakers and local advocates have been reduced to advocating for safe overnight parking spaces for people who live in their cars. Meanwhile, some forward-thinking trail advocates are considering how to design trails that meet the needs of the houseless as well as the housed.
Transportation Bills At the Deadline
Today is the last day for the California legislature to pass bills this session. Here's a sampling of some of the bills we've been following and their current status: So far, the Caltrans complete streets bill, the bill requiring Caltrans to develop a strategy for heavy-duty diesel vehicle emissions reductions, and the bill allowing Amtrak to run buses independent of its trains have passed the legislature and are on the governor's desk. The bill making electric bikes and bike shares eligible for old car trade-in rebates in some parts of the state has already been signed by Newsom. Meanwhile, this session's follow-up bill to the Great Redwood Trail Act has been shelved, apparently by mutual agreement of stakeholders as the administration continues carrying out the first steps required by the Act.
Will a Horrific Crash Move the Needle on Bike Infrastructure in New Orleans?
Advocates say it could be a world-class biking city if its streets weren't so dangerous.
Electric Pick-up Start-Up Getting Loads of Capital
National Drive Electric Week starts tomorrow. Will Rivian successfully produce electric versions of America's beloved pick-up trucks and SUVs? Is this where we should be putting our cash anyway?
---
The Collector is CRTP's weekly transportation news roundup, published every Friday. We focus on North Coast news, but we also include relevant state, national and international transportation news – plus other items that we just find kind of interesting! To submit items for consideration, email colin@transportationpriorities.org.