The Collector



September 16, 2022
---
Arcata Highway Canyon Could Be Covered One Day
Decades ago, many Arcatans fought to prevent Caltrans from digging a massive trench through the heart of town to make Highway 101 into a freeway. Now, CRTP has learned that Caltrans may apply for a grant to study "capping" that freeway and adding new facilities like a transit hub and bus rapid transit system. A highway cap – or the related alternative of turning the freeway back into a slower urban street – could potentially create enough real estate not only for a transit hub but also much-needed amenities like parks and housing. It could help reconnect Cal Poly Humboldt and surrounding neighborhoods with the rest of town. This concept is in its earliest stages, so stay tuned for more information in the coming months.
Eureka City Council to Decide on Bike Safety Project on W and Dolbeer Streets
City staff have proposed making them one-lane, one-way streets near Washington Elementary School and the zoo, in order to add bike facilities. Good bikeways are especially critical in places like this, where a lot of kids are likely to be biking or walking. These streets are also intended to anchor the future Bay-to-Zoo Trail, making it even more important that they have safe biking infrastructure. Show up or email the City Council to voice your support, and ask that they include a physical barrier between the bike lane and the cars.
Cal Poly Humboldt Holding Public Meetings on Campus Development Plans
There are two meetings next week where you can tell university administrators to follow its recently adopted Climate Action Plan – in other words, cancel plans for costly new parking structures, build on-campus bike storage facilities, and expand bikeshare and carshare systems, among other things.
Ride Your Bike to the North Country Fair!
CRTP will be providing free bike valet for anyone who arrives on a pedal-powered device. Come on down and see us!
Arcata Planning Commission Again Puts Off Gateway Plan Decisions
Commissioners seemed to reject the idea of a new Gateway task force – which CRTP also opposes as an unnecessary delay in the process – and inched toward supporting some of the proposed building heights, but didn't take any actual votes. Meanwhile Alex Stillman has become the second Councilmember forced to recuse herself from future decision-making on the plan, and the city's Transportation Safety Committee may reconsider its position on the plan's proposed L and K Street changes next week.
Humboldt's Road System Is Just Too Big and Expensive to Maintain
Despite an infusion of federal funding, the county still has a significant road funding deficit, largely driven by the constant need to repair major storm damage on rural roads.
---
Your reports help us advocate for safer streets.
Make a report on Street Story every time you see or experience a new hazard, near-miss or collision. La versión en español está disponible aquí.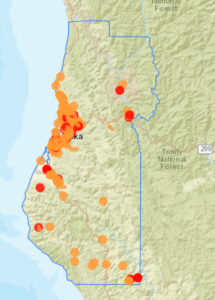 ---
Newsom Vetoes Free Transit Passes for Kids…
Despite recent record surpluses in Sacramento, he says it's just not in the budget. Find a more comprehensive legislative update from CalBike here.
…But There's Apparently Plenty of Money to Support Our Gas Habit
Look for "gas refund" checks arriving from the state soon.
States Are Still Spending Huge Amounts of Money to Expand Highways
Despite the federal government finally recommending against it.
---
The Collector is CRTP's weekly transportation news roundup, published every Friday. We focus on North Coast news, but we also include relevant state, national and international transportation news – plus other items that we just find kind of interesting! To submit items for consideration, email colin@transportationpriorities.org.