The Collector
May 8, 2020
---
Committee Members Silent on COVID Response Measures
After hearing a report from staff and from CRTP's Executive Director on important measures local governments can take to address bike and pedestrian safety during the pandemic, members of the Humboldt County Association of Government's Technical Advisory Committee had nothing to say. We hope that's because they're already planning appropriate actions, but if so, we haven't heard about them. Meanwhile, mobility-on-demand proposals to modify the Redwood Transit System and the local bike-sharing system did receive some feedback – and general support – from the committee.
E-Bike Rebates Are Going Fast
According to a newsletter sent out this week by the Redwood Coast Energy Authority, over half of the funding set aside for $500 individual e-bike rebates has already been claimed. So expect to see a lot more e-bikes on the streets soon! We're hoping this high level of demand will prompt more rebate funding in the future. But if you're planning to buy an e-bike and get the rebate, you might not want to wait.
County to Present Town Center Survey Responses
Next Wednesday the Humboldt County Planning Department will present a summary of responses to an online survey about the future McKinleyville Town Center. It's unclear if public workshops to collect further input on planning, zoning and regulations – which were in full swing before the pandemic locked us all down – will continue soon as well. You can attend next week's meeting, watch the presentation, and comment…on Zoom, of course!
Del Norte Applying for Electric Bus Funding
On the consent agenda for this week's Del Norte Local Transportation Commission meeting was an authorization to apply for state funding to purchase a zero-emission electric bus for the local transit system. With the Humboldt Transit Authority already running one electric bus and planning for a full transition, it looks like electric transit is spreading quickly on the North Coast!
It's Still Bike Month!
Whatever is going on in the world around us, the bicycle is still an amazing, practical and fun way to get around. Just remember to practice safe physical distancing.
Weekly Street Story Update: Tell Your Story
Reviewing the 600+ reports made on the Street Story platform so far on the North Coast is a stark reminder that there are lots of places with unsafe conditions for bicyclists and pedestrians even in the best of times. Obviously, these are not the best of times, and the mandate to stay at least 6 feet away from other walkers and bicyclists has exacerbated problems in many areas. If you're experiencing special problems on the street as a result of the pandemic, please reach out and let us know. And as always, if you see or experience a hazard, near-miss or collision, make your Street Story report here.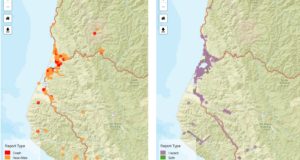 A Bold Proposal to Rescue Restaurants
When they re-open, restaurants will need more space to serve customers with appropriate 6-foot spacing. But most of them have plenty of space…in their parking lots or adjacent on-street parking.
What's the Best Way to Get Those Groceries?
The environmental impact of the food supply chain depends a lot on how you get yourself to the grocery store and back (or if Jeff Bezos delivers them to your home).
---
The Collector is CRTP's weekly transportation news roundup, published every Friday. We focus on North Coast news, but we also include relevant state, national and international transportation news – plus other items that we just find kind of interesting! To submit items for consideration, email colin@transportationpriorities.org.