The Collector
May 1, 2020
---
Arcata Council Members Support COVID Response Measures for Pedestrians
At a special meeting on the ongoing COVID-19 crisis this week, the majority of Arcata City Councilmembers said that they supported two measures proposed by CRTP: (1) reprogramming traffic signals on Samoa Blvd so that walkers don't have to press a button to cross the street; (2) creating temporary sidewalk extensions on G & H Streets to allow for social distancing while walking. Hopefully we'll see some progress soon!
Committee to Consider COVID Response Measures, Mobility-on-Demand Strategies
In a packed meeting next Thursday, the Humboldt County Association of Government's Technical Adivsory Committee will consider several important topics, including temporary COVID response measures for bikes and pedestrians and proposed mobility-on-demand pilot projects: (a) shortening the Redwood Transit System route, increasing its frequency, and replacing lost connections with on-demand services; (b) dramatically expanding the county's bike sharing infrastructure.
Bike Month Starts Today
Group rides are out, but individual rides are still encouraged!
County Ordinance on Second Units to Get Hearing Next Week
Humboldt's proposed Accessory Dwelling Units Ordinance will be considered by the County Planning Commission next Thursday. ADUs are often considered a key method for increasing density (and thus potentially walkability and bikeability) of single-family residential neighborhoods. But not if they're being built way out in the woods!
Pandemic Doesn't Stop Work to Shore Up Last Chance Grade
Ongoing construction will close the highway overnight several times in May. And this is just to keep the existing road from collapsing. An alternate route is still many years in the future.
Just How Much Are We Staying At Home?
The Times-Standard reports on Facebook and Google data that suggest Humboldt County residents are staying home either 22% or 12% more than the pandemic, respectively. Another source of cell phone data indicates that we're staying home 25-40% more. There's a pretty big difference between 12% and 40%, which is a good reminder that even in these times of ubiquitous technological tracking, accurate transportation data can be hard to come by.
Weekly Street Story Update: Stay Safe Out There
Two more near misses for pedestrians and 3 more hazardous locations were reported this week in the Humboldt Bay area. If you see or experience something dangerous while traveling for essential reasons or for recreation, please make your Street Story report here.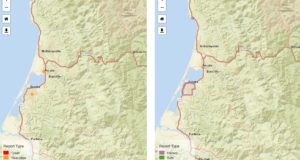 Active Transportation is Good for You in a Pandemic
And the rest of the time, too.
…So Here's What You Can Do to Support It Right Now!
Some good ideas from Alta Planning.
Why Aren't We Seeing Even Lower Carbon Emissions in the Lockdown Era?
Most transportation hasn't actually stopped, for one thing. And, as important as transportation is, it's far from the only source of greenhouse gas emissions.
---
The Collector is CRTP's weekly transportation news roundup, published every Friday. We focus on North Coast news, but we also include relevant state, national and international transportation news – plus other items that we just find kind of interesting! To submit items for consideration, email colin@transportationpriorities.org.