The Collector
May 15, 2020
---
COVID-19 Response in the Streets
In an op-ed on the Lost Coast Outpost, CRTP Executive Director Colin Fiske calls for more protections for bicyclists and pedestrians – and local businesses – by making some changes to our local streets.
Eureka Mayor Talks Pedestrian Safety During the Pandemic
Mayor Susan Seaman notes that social distancing requirements are causing some people to walk in the street, and urges everyone to be careful. And she even plugs Street Story!
People Are Moving More Around Here
Getting restless, Humboldt? Just remember to follow public health guidelines if you're going out.
Planning Commission Unanimously Approves New Manila Trail
Most residents are excited about the long-await bike/pedestrian improvements. But a couple of local gadflies just can't stop gadding.
County Reports on McKinleyville Town Center Survey
At a (virtual) meeting this week, Humboldt County planning staff attempted to summarize the hundreds of responses they received to an online survey about the future Town Center. Here are some of the takeaways: People want a mixture of public open space, small businesses, and homes in the Town Center, and they want walkability and bikeability to be a primary focus.
Humboldt Virtual Trails Summit Scheduled
Mark your calendar!
Even More About E-bikes
Haven't heard enough about e-bikes and the local e-bike rebate? Listen to the Eco News Report!
Weekly Street Story Update: Tell Your Story
1 new crash and 1 near miss have been reported in the last week on Street Story, both in Arcata. If you see or experience a hazard, near-miss or collision, make your Street Story report here.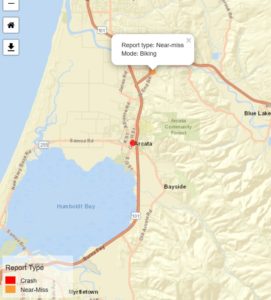 Drama at the California Transportation Commission
Compared to years past, it was like living in another world to watch the Director of Caltrans appear before the Commission and passionately argue for more money to be set aside for active transportation projects. Though there was quite a bit of argument, the Commission did promise in the end to reserve $100 million out of one of its major funding programs. CRTP was one of the groups advocating for the reserve.
Transit Gets Another $15 Billion in New Democratic Proposal
But it's not nearly enough. Advocates are asking for it to be doubled.
How COVID-19 Could Be An Opportunity to Make Our Cities Better
And how diseases of the past have shaped the communities we live in today.
The Problem Isn't Density, It's Crowding
Dense cities have plenty of space to deal with coronavirus safely – if they take back some of the real estate from cars.
---
The Collector is CRTP's weekly transportation news roundup, published every Friday. We focus on North Coast news, but we also include relevant state, national and international transportation news – plus other items that we just find kind of interesting! To submit items for consideration, email colin@transportationpriorities.org.