The Collector



March 10, 2023
---
Another Pedestrian Killed by a Driver on Highway 101 in Eureka
The tragic crash occurred on 5th Street, almost right in front of City Hall. In an increasingly and disturbingly common occurrence, the driver then fled the scene without reporting the crash or offering aid. We offer our condolences to the victim's loved ones. And we are outraged that these tragedies are so commonplace that they barely result in a story in the local media beyond re-printing a law enforcement press release.
This is not normal or acceptable, and we can't be complacent about it. We know exactly what the problem is, and we know that it is highly concentrated on a small number of high-speed, high-volume streets. And we know what to do about it; we know how to re-design these streets for safety rather than for speed, and we know that if done well it works. These tragedies are preventable. Let's stop the death toll now.
Massive McKay Subdivision Approved by Humboldt Supervisors
Thanks to advocacy by CRTP and our allies, the county and the developer finally agreed to making the development all-electric, and to devoting some funds to bike and pedestrian improvements. Unfortunately they did not agree to other needed transportation improvements, such as providing bus passes to apartment residents and reducing the amount of subsidized parking. But compared to past county subdivisions, this can be counted as a major win for people and the environment.
Will the Arcata Planning Commission Finally Start Making Faster Progress on the Gateway Plan?
We previously reported that city staff are estimating adoption of the Gateway plan and form-based code a full year from now. But even meeting that far-off deadline, which the City Council has requested, requires the Planning Commission to significantly speed up their review. They'll be tackling this procedural issue at their meeting next Tuesday. Hopefully, the process will begin to move forward at a pace that reflects the urgency of the housing crisis, the climate crisis, and the street safety crisis – all of which the Gateway Plan will help to address.
Local Road Network is Fragile and Overextended
The earthquake damage to Fernbridge is the latest reminder that the maintenance of our extensive and vulnerable rural road system is difficult and expensive. It may seem normal or even natural that people living in low-density rural areas can always drive to and from their homes, but that is the result of road-building efforts in decades past that have never produced enough tax revenue to sustain themselves – especially in our stormy and geologically unstable region – and the future is far from certain.
---
Over 1,000 Humboldt County Reports on Street Story!
Local residents have now made more than 1,000 reports on Street Story in Humboldt County alone. Most of the reports are for hazards, near misses and crashes – but a few safe spots have been reported too. Join your friends and neighbors and start making your reports today! La versión de Street Story en español está disponible aquí.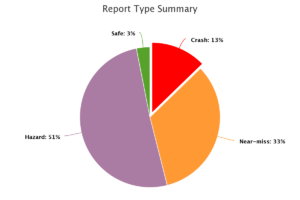 ---
News from Beyond the North Coast
Cars Just Keep Getting Bigger – Including the Electric Ones
Electric trucks and SUVs may not guzzle gas, but they do require a lot more electricity, lithium, and other rare and toxic chemicals than smaller vehicles do, and they are just as deadly for pedestrians. Americans: please buy smaller vehicles. Especially the smallest vehicles of all: e-bike electricity and mineral use is tiny compared to even the most compact sedan, and they can replace many car trips pretty easily.
Bill Targeting Biased Police Searches Passes First Committee Vote
The bill would make it illegal in California for police officers to conduct warrantless searches of people or vehicles based only on individual "consent." Why is this a transportation issue? Data show that these searches disproportionately target people of color, harassing people just trying to walk, bike or drive on public streets, and making it uncomfortable and even dangerous for people to get around their communities.
New York Times Picks Up on Parking Reform
The elimination of costly parking mandates is going mainstream.
Biden Administration Leaves Highway Spending Decisions Up to States
The administration has given into conservative pressure and stopped trying to discourage new highway construction. The results could be catastrophic.
---
The Collector is CRTP's weekly transportation news roundup, published every Friday. We focus on North Coast news, but we also include relevant state, national and international transportation news – plus other items that we just find kind of interesting! To submit items for consideration, email colin@transportationpriorities.org.