The Collector



March 3, 2023
---
Next Public Meeting on Eureka's Downtown Housing & Transportation Improvements
Following up on last month's meeting, Eureka and Linc Housing will be presenting "refined" proposals for bike, pedestrian and transit improvements to go with the affordable housing projects on city-owned parking lots. You can attend next Wednesday's meeting in person at the Jefferson Center or via Zoom.
Cutten Area Subdivision Heads Back to Supervisors Next Week
The huge suburban-style "North McKay" subdivision has been in limbo for nearly a year, after CRTP and allies demanded stronger measures to reduce environmental impacts. Here's the good news: the county has now agreed to prohibit natural-gas hookups for the development – a critical climate mitigation measure – and had already consented to devote the transportation fees to bike and pedestrian improvements. These are big wins for responsible transportation and the environment. The bad news is that they have still not agreed to other reasonable and necessary measures, like free bus passes for residents of future apartment buildings. The Humboldt County Supervisors are expected to make a decision on the project next Tuesday.
The Self-Fulfilling Prophecy of Car-Dominated Communities
Check out the latest and final article in our EcoNews series on the history of designing communities for the automobile. If you missed any of the previous articles, you can read the whole series here.
Gateway Plan Adoption Still a Year Away?
That was the estimate at this week's Arcata City Council meeting, even as the city's Planning Commission was discussing the urgent need for more infill housing of the kind the plan is designed to encourage. That's a long time to wait. We are happy to report, however, that in their discussion the Commissioners broached the subject of eliminating the costly parking mandates that hold back housing development and enforce car-centric design.
Next Steps for the Great Redwood Trail
The Great Redwood Trail Agency is asking a federal agency to give up its authority over the rail line used by the "Skunk Train," one of the last steps toward finalizing railbanking for the entire corridor. Next up: trail planning!
Caltrans Still Trying to Expand Highway Through Richardson Grove
Conceived in past decades to redesign the highway for the biggest vehicles at the expense of a state park, this project should have been abandoned long ago. It's just not consistent with Caltrans's current mandates, but for some reason the agency just can't seem to let it go.
Samoa Transit Service to Be Discontinued
Almost no one is using the service, which debuted two years ago and connects the small cluster of homes in Samoa with downtown Eureka. Here's the lesson that local governments (and developers) need to learn: you can't build housing far away from jobs and services, demand a new bus route, and expect that people will use it. Transit ridership depends not just on service, but also on efficient land use patterns.
---
When you see a street safety hazard, get out your phone or make a note.
Then report it on Street Story. Your reports help us advocate for safer streets, and help government agencies get funding for improvements. La versión de Street Story en español está disponible aquí.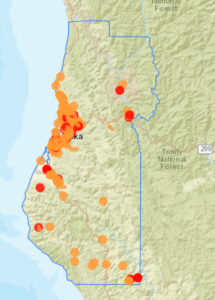 ---
News from Beyond the North Coast
Sign Cal-Bike's Petition to Legalize the Bike Safety Stop
It's common sense. It increases safety. It's already the law in most other western states. Why isn't it legal in California yet?
Pedestrian Fatalities Keep Rising Nationwide
Preliminary 2022 data show the disturbing trend is continuing. Fortunately, California's pedestrian deaths didn't increase from last year's number – but that's not very comforting given how much they had already risen over the last decade.
---
The Collector is CRTP's weekly transportation news roundup, published every Friday. We focus on North Coast news, but we also include relevant state, national and international transportation news – plus other items that we just find kind of interesting! To submit items for consideration, email colin@transportationpriorities.org.