The Collector



February 24, 2023
---
Rob Arkley's Love of Downtown Parking Lots Reveals "Motonormativity"
Check out CRTP Executive Director Colin Fiske's recent op-ed in the Lost Coast Outpost for an exploration of our culture's deep-seated biases about cars, and how those biases frequently lead people – including certain prominent business owners – to ignore facts and ethical standards when it comes to subjects like parking.
And while you're thinking about downtown Eureka, take this new survey from Linc Housing. Your answers will help guide their plans to include transportation upgrades with their affordable housing project on city-owned parking lots. La versión en español está aquí.
Still More Decisions to Be Made About McKinleyville Town Center
The McKinleyville Municipal Advisory Committee didn't quite finish their review of the town center ordinance this week, so more decisions – including those about parking policy – will have to wait until next month. But support for a lane reduction and traffic calming on Central Avenue was strong, and we've now ensured that various versions of that approach will be considered as part of the ordinance moving forward. Thanks to CRTP members and supporters who showed their support! And thanks to local advocate Melodie Meyer for her excellent op-ed on the subject in the Times-Standard.
Join a Local Bus Adventure!
CRTP ally 350 Humboldt recently started organizing fun "bus adventures" in Humboldt County. These group outings are a great opportunity for folks who aren't regular riders to experience the bus system, learn how it works, and get comfortable using it for everyday transportation. The next bus adventure is next Thursday, March 2nd. Ride the bus from wherever you are to downtown Eureka, where you'll join fellow bus adventurers at the gazebo at 12:15 pm for lunch and a stroll before getting back on the bus! Contact organizer Cathy Chandler-Klein at cathyck@sbcglobal.net for more information and to coordinate your trip.
Riding the bus is cheaper than driving, by the way – but it isn't free. Should it be? Check out this recent article from CRTP for a discussion of this hot topic.
Coordinated Branding for Humboldt County's Transit Systems?
Sounds like a good idea to us! Unified branding could make the system less confusing, especially for new transit riders. A consultant will present their recommendations at a special meeting next Tuesday.
---
Walk, bike, roll, Street Story.
If you're out walking, biking, or rolling on local streets, you see hazards and experience near-misses pretty regularly, maybe even every day. Make it a habit to report those things on Street Story. Your reports help us advocate for safer streets, and help government agencies get funding for improvements. La versión de Street Story en español está disponible aquí.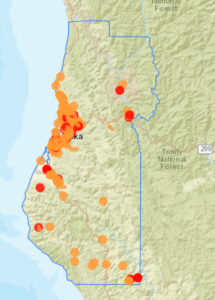 ---
News from Beyond the North Coast
Congressman Huffman Talks About Transportation Decarbonization
And lots of other environmental topics! Check out his latest appearance on the EcoNews Report with local environmental leaders, including CRTP's own Executive Director.
A Different E-Bike Subsidy Model
Instead of rebates, one organization is offering a "rent to own" program. Could this help get e-bikes to more people who really need them?
Seeing Streets from a Different Perspective
If you're an adult who doesn't use a wheelchair, you may never stop to consider what it's like to see the world from a vantage point closer to the ground. But if we want to design streets for everybody, we need to see things from all perspectives. Now you can download plans for a simple "reverse periscope" designed to help people who experience the street from a slightly greater height understand what it's like for kids (and wheelchair users). The experience might surprise you!
---
The Collector is CRTP's weekly transportation news roundup, published every Friday. We focus on North Coast news, but we also include relevant state, national and international transportation news – plus other items that we just find kind of interesting! To submit items for consideration, email colin@transportationpriorities.org.