The Collector
April 5, 2019
---
Unmet Transit Needs Report Gets First Review
The Humboldt County Association of Governments' Technical Advisory Committee (TAC) met yesterday and took on a slew of important topics. Arguably the most significant item was its review of the proposed annual Unmet Transit Needs report from the Social Services Transportation Advisory Council. The SSTAC found that there are two unmet transit needs which are "reasonable to meet" – meaning under state law they'll have to be met. The first is an additional bus stop in southwest Eureka; the second is limited Saturday bus service to Blue Lake.
Planning Commission Continues Consideration of Zoning Changes
This week, the Humboldt County Planning Commission weighed proposed changes to the zoning code text related to timber lands and other rural and wild areas. On April 18th, they are scheduled to take on the proposed new mixed-use zones, which are meant to encourage pedestrian-oriented development in the centers of established communities.
Winter Road Repair Bill Adds Up
The cost of repairing this season's road damage in Humboldt County is estimated at $20 million. Meanwhile, the Measure Z Citizen's Advisory Committee has rejected the Public Works Department's $3.5 million request for road repairs.
Coastal Commission Staff Not Impressed with Trinidad Casino Proposal
Among the objections raised is the unclear relation to the proposed new Highway 101 interchange which would serve the project.
CRTP to Lead McKinleyville-Arcata Practice Bike Commute
Rain or shine, join us on Saturday for a beautiful ride through the Arcata Bottoms!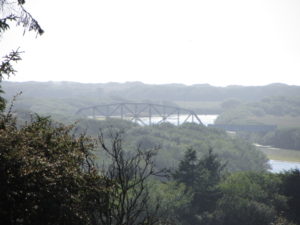 Trails Summit Scheduled for May
The free public event in Arcata will feature information about local trail projects and comments from Senator Mike McGuire about the Great Redwood Trail.
Friends of the Eel River Leads Great Redwood Trail Hike
Some members of the public got to tour a remote stretch of railroad right-of-way in the Eel River Canyon that will someday host part of the Great Redwood Trail.
Harbor District Calls for Emergency Dredging
Another chapter in the never-ending Humboldt Bay dredging saga.
More Evidence that Death While Walking is On the Rise
The disturbing nationwide trend of increasing pedestrian fatalities shows no sign of abating.
Imagine a City Where Car Parking is Removed to Make Way for Bike Parking
That's Amsterdam!
---
The Collector is CRTP's weekly transportation news roundup, published every Friday. We focus on North Coast news, but we also include relevant state, national and international transportation news – plus other items that we just find kind of interesting! To submit items for consideration, email colin@transportationpriorities.org.