The Collector
June 7, 2019
---
More Infill Housing for Downtown Arcata?
The city's Planning Commission is set to consider the "Isackson's Affordable Housing Project" next week, which would add 43 affordable apartments to the downtown area. It's also tied to a number of improvements to the surrounding bicycle and pedestrian infrastructure, as well as a potential new bus route. CRTP weighs in on the project here.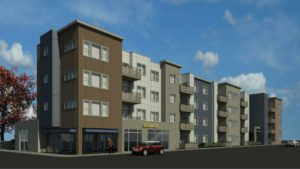 Flights from Denver Start Arriving in McKinleyville
Don't get us wrong, we understand the appeal of being more connected to the world beyond the redwood curtain through a quick plan ride. But it still strikes us as odd that local boosters are encouraging the public to fly as much as possible, when flying is one of the most climate-wrecking forms of transportation.
We've Run Out of Clever Headlines About The Village
But the Arcata City Council finally said they're OK with it. Formal approvals to come… probably.
Eureka Gets Money to Study Balloon Track
As both a contaminated former rail yard and the desired location of a future extension of 4th Street being studied by the City and Caltrans, the Balloon Track is a significant site in local transportation lore. But contamination is only one of the challenges here – it's also full of coastal wetlands, as a lawsuit from local environmental groups reminded developers the last time around.
Redwood Coast Energy Authority to Host Electric Vehicle Workshop
While we generally support driving less, if you have to drive, an EV is the way to go. If you want to get into the nitty gritty of how to buy an EV, this event is for you.
Cal State Students Pay More for Parking Than Faculty or Staff
Students and advocates are framing this as a case of poor students subsidizing wealthier staff. But reduced parking fees means that non-driving students (who incidentally are more likely to have lower incomes) will have to subsidize drivers. Our opinion: if the CSUs want to help struggling students, they should provide alternative transportation rather than reducing fees for private vehicles to park on campus.
Letter Laments Potholes
We lament the fact that our cities, counties, states and federal government built up an enormous system of streets and highways over the last half century with no feasible way to pay for maintaining it.
---
The Collector is CRTP's weekly transportation news roundup, published every Friday. We focus on North Coast news, but we also include relevant state, national and international transportation news – plus other items that we just find kind of interesting! To submit items for consideration, email colin@transportationpriorities.org.